Creative Ad Builder
The Creative Ad Builder helps you create interesting image ads or video extensions based on prepared templates. You can design an unlimited number of ad creatives for free.
You don't need any special skills or experience to create them. In the space of a few minutes you can create ads without the help of a professional designer.
How to design ad creative in the Ad Builder
To create or edit an image ad, go to the Creative section and click Add → Create new from template. Choose one of the template options in the Creative Ad Builder window that opens. The window for creating sets of components will appear.
On the left side of the window, select the ad creative sizes you need. They are all selected by default, so that ads can be shown in as many places as possible.
On the right side of the window, select an image, fill color, and border, and add your main text. You can add your own image, select one from the library or use images previously uploaded by you. The border color must not match the background (the selected background color or the colors in the uploaded file).
Enter the appropriate information in Age rating, Warning, and Legal information. Please note that all information required by law and the Yandex Ad Serving Rules must be present on the ad creative, including age restrictions and warnings.
You can view all changes you make instantly in the preview area. To check the legal information, hover your cursor over the icon in the lower-left corner of the creative.
When you have finished working on creatives, click Create. The ad creatives will be added to the library.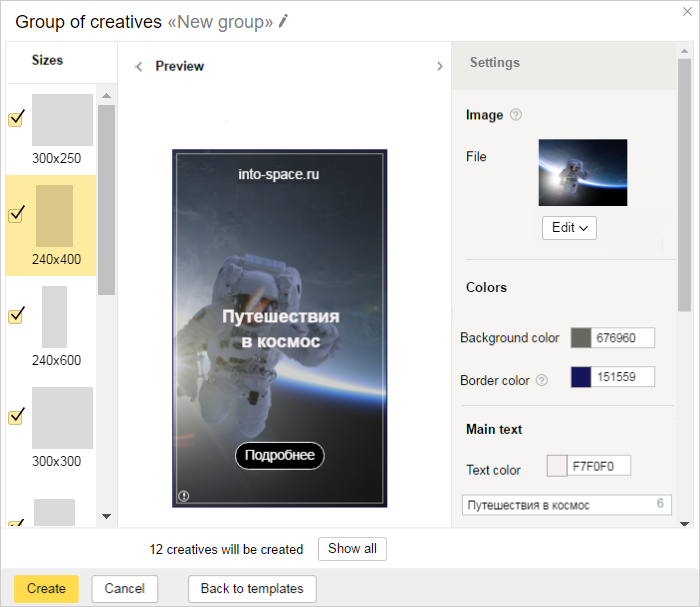 A separate image ad will be created for each creative in the set. You can add up to 50 ads to a group.
Add creatives from the library
You can use your ad creatives in other groups.
Restriction.
An image ad creative from Ad builder can only be replaced with an Ad Builder creative of the same size. It can't be replaced with a creative uploaded from your computer or the internet.
Export creatives
You can export an XLS file with links to all the creatives that were made in the Ad Builder. To do this, click Export list to XLS.
You can use these links to add the creatives to multiple ads at once via XLS/XLSX files.
Restriction.
You cannot transfer creatives between accounts.