Actions with campaigns
A few tools are available to help you work with several Yandex.Direct campaigns at once.
Search campaigns
You can use the Search Campaigns feature if more than one campaign is linked to your username. Search by campaign name and number, start date, comment text, and (if the campaign is serviced by a Yandex manager) manager name.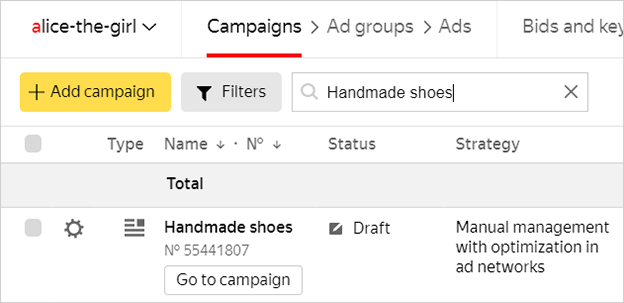 Group campaign management
To edit multiple campaigns at once, select them on the My campaigns page and click Actions at the bottom of the page.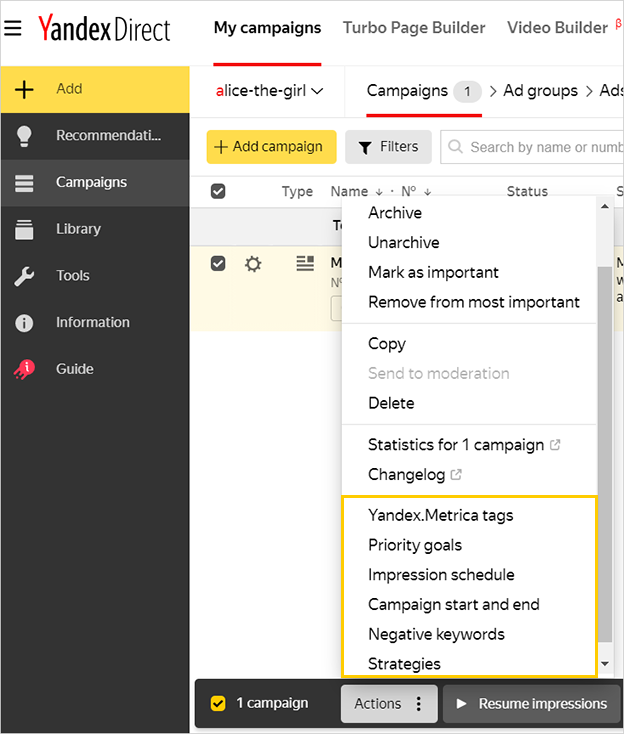 Batch editing is available for:
Yandex.Metrica tags

Priority goals

Time targeting

Campaign start and end

Negative keywords

Strategies
If the selected actions can't be applied to some campaigns, you will see a warning.
"Most important campaigns"

filter

You can create a separate list for the campaigns that you work with most often. To do this, select the campaigns on the My campaigns page and click Actions → Add to most important. To view the list of the most important campaigns, open the filter by campaign status and choose Most important only.

The list of most important campaigns is shown for each login, so you can use it to visually separate one representative's campaigns from another.