Actions with campaigns
If you are running multiple campaigns in Yandex.Direct, use the following tools.
Search campaigns
Search for campaigns is available if at least two campaigns are linked to your username. You can search by the campaign name, number, start date, and notes text.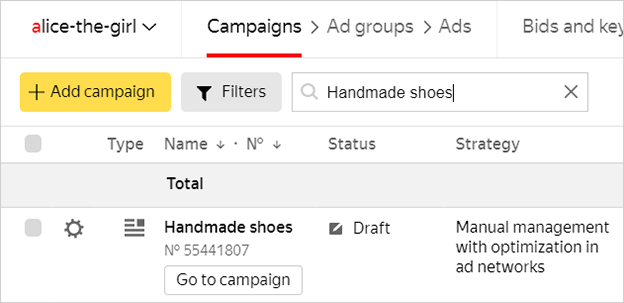 Group campaign management
To edit multiple campaigns at once, select them on the My campaigns page and click Actions at the bottom of the page.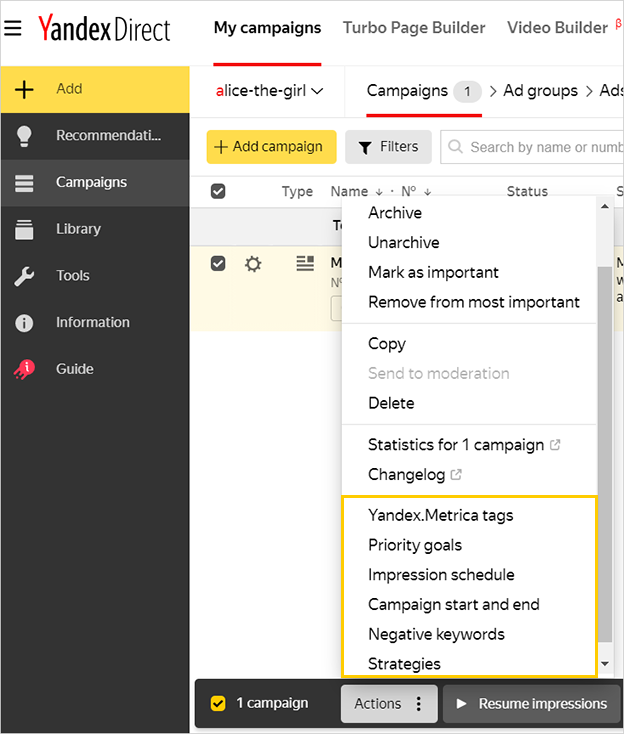 Batch editing is available for:
Yandex.Metrica tags

Priority goals

Time targeting

Campaign start and end

Negative keywords

Strategies
If the actions can't be applied to some campaigns, you'll see a warning.
"Most important campaigns"

filter

You can create a separate list for the campaigns that you run most often. To do this, select the campaigns on the My campaigns page and click Actions → Add to most important. To view the list of your most important campaigns, select Most important only in the status filter.

The list of most important campaigns is shown for each username, so you can use it to visually distinguish campaigns created by different client representatives.