2.1. Yandex Map Editor Interface
The Yandex Map Editor interface displays the map itself as well as tools for working with it. Use the Create button to create and edit Yandex Map Editor items: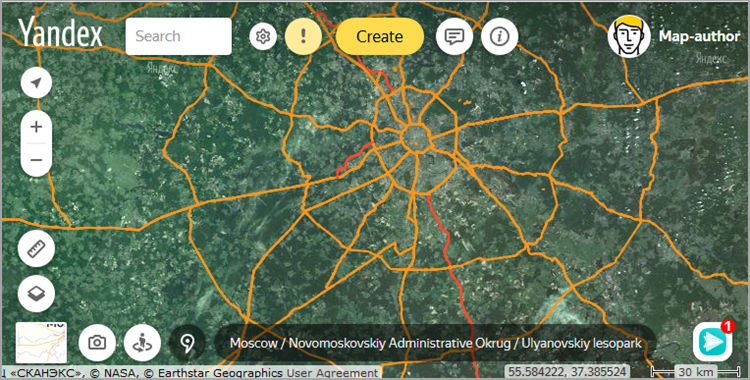 With Yandex Map Editor, you can:
View the

history of your actions

on the map. To view your notifications list, click the

Notifications

button

.

To see your position in the daily user ratings, do the following (e.g. you're the fourth by the number of edits):

(the icon replaces the scale toggle).

Click the icon to open the map editor rating list (see section 1.1.1. User profiles).

Click the

Recommendations

button on the YME screen and do the following steps in the panel that opens:

Note.

You can also bring up a short guide and detailed instructions on how to work with the Map Editor.

Click on the item attribution panel to bring up a short guide. Click again to see the detailed instructions (you will see a page dedicated to the particular item you're viewing).

Determine your location. Just click

(

My location

). This will position the map so that your current location displays in the center of it.

You can find out the geographic coordinates at the center of the map (they display at the bottom of the map to the right, where the blue arrow is pointing in the drawing). You can also determine the coordinates of any other point you're interested in (they display when you click on that point and select

Copy to clipboard

, as indicated by the green arrow):

Coordinates are indicated as decimal numbers in the format "latitude longitude". Northern latitude and eastern longitude are unsigned numbers; southern latitude and western longitude display a "minus" sign before the digits.

Coordinates can be used, for example, when searching for items or to send information about an item's location.

See the section of YME that's currently displaying on Yandex.Maps. Just click

(

Go to Yandex.Maps

).

View street panoramas. Click

(

Yandex.Panoramas

). A network of blue lines appears on the map, indicating where street panoramas can be viewed. Click the desired area on the blue line to open the panorama view for that area. If there are no panoramas for the territory you're working on, the button will be disabled. For more information, see the

Panoramas

section.

View pictures taken from

speed cameras

and the

Yandex Map Editor mobile app

. Click

(

Images of the area

).

If you haven't

logged into

Yandex before opening the map, you will see a language selection window:

You will be able to change the menu language after logging in by clicking on your username and making a selection:

Log in to YME chat. Click

(

Messenger

).

To learn more about chats and messages, see Yandex.Help: Desktop chats.