2.1. Yandex Map Editor Interface
The Yandex Map Editor interface displays the map itself as well as tools for working with it. Use the Create button to create and edit Yandex Map Editor items: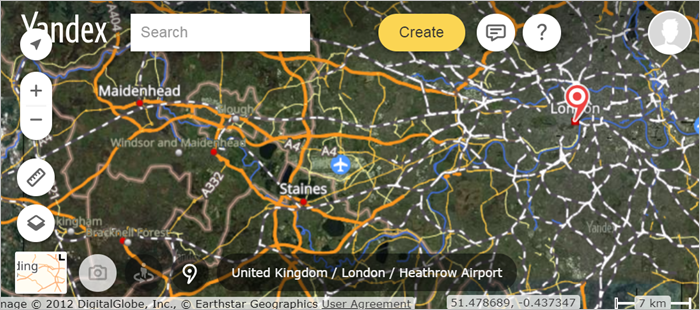 With Yandex Map Editor, you can:
Copy items (places and simple polygonal items).

Undo edits and send reports about a map item to the moderator (so that the item will get deleted, for example).

Read map item comments and add your own.

View the history of a map item.

View the history of your actions on the map.

Open the Yandex Map Editor directory.

Click in the attribute panel of the map item (the directory opens on the page containing the rules for working with that type of map item).

You can also click on the YME main screen and click one of the links on the page that opens:

— Instructions for working with YME
— Messages about YME updates or changes to the Mapping Rules;
— Information about moderating the map;
— Drawing rules (Section 3. Global mapping rules in these instructions);
—
—

"Live broadcast"

(lets you view what's happening on

YME

in real time).

Determine your location. Just click (My location). This will position the map so that your current location displays in the center of it.

You can find out the geographic coordinates at the center of the map (they display at the bottom of the map to the right, where the blue arrow is pointing in the drawing). You can also determine the coordinates of any other point you're interested in (they display when you click on that point and select Copy to clipboard, as indicated by the green arrow):

Coordinates are indicated as decimal numbers in the format "latitude longitude". Northern latitude and eastern longitude are unsigned numbers; southern latitude and western longitude display a "minus" sign before the digits.

Coordinates can be used, for example, when searching for items or to send information about an item's location.

See the section of YME that's currently displaying on Yandex.Maps. Just click (Go to Yandex.Maps).

View street panoramas. Click (Go to Yandex.Panoramas).

If there are not any panoramas for the territory where you work yet, you won't be able to access that button and will display instead.

View dashboard images. Click (Dashboard images).