FAQs
How do videos end up on the popular clips page?
You can return to the list of popular clips from any page of Yandex.Video. Just click Video in the service's search bar.
See the Home page for more details.
How can I limit my search to certain sources?
How can I get to the advanced search options?
Enter your request and click Search.

Then click in the search bar.

How can I filter out adult content?
Enter your request and click Search.

Click Search mode to the right of the search bar and choose the Family-friendly option.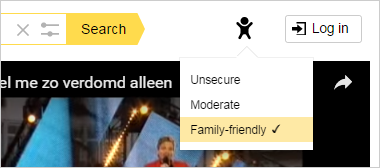 Why do some clips open on another site?
Video viewing capabilities change based on the particular functionalities of the player that the hosting site supports. Some players don't allow you to view videos on third-party sites.
Clips marked as

can only be viewed on their source sites. The webpage of the hosting site opens when you choose this type of clip.
How can I share videoclips?
You can post a video link on social networks. Just click

Share (under the player to the right).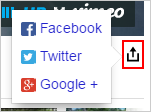 How can I complain about a clip?
Please let us know if you think that the search results don't match your request or contain inappropriate material by clicking Report:
Click →

Report

in the clip snippet.

Enter your complaint.

Doesn't match search term
Shocking or objectionable content — images of unpleasant content (for example, accident victims, violent scenes, physical deformities)
Pornography

Click

Report

.
After it's checked, automatic Yandex.Search algorithms will factor in your review in order to improve the quality of Yandex.Video search results.
If a given videoclip infringes on your rights, you should contact the administrator of the video hosting service where the clip is located.
Can I download a clip from Yandex.Video?
Yandex.Video doesn't support video downloads. The service finds and plays clips from other sites.
If you want your clip to end up on Yandex.Video, upload it to a video hosting site and give it a name, description, and tags. Yandex will index it within a certain time period and your clip may end up in the search results.
If you are the owner of a video hosting service, please read the Partner Program conditions.