HTTPS support
Sites sending players that use HTTPS to Yandex.Video can play their content right in the search results and their videoclips are more likely to display in relevant searchs.
Sites with players that are only accessible over HTTP end up in search results, but the player itself will not display. An external link to the source page will be shown in its place.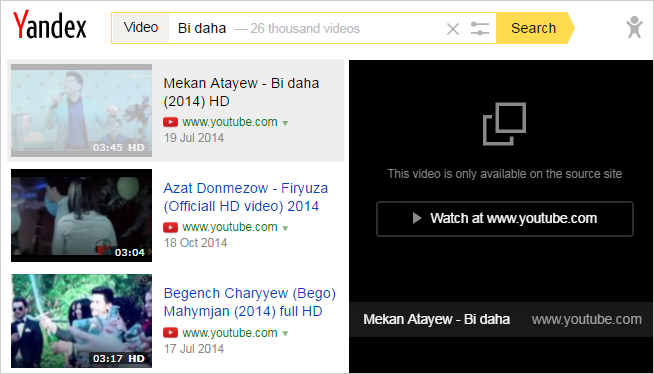 Additionally, if internal player elements (including ad blocks) are only accessible over HTTP, we can't guarantee that they will playback when videoclips are viewed in Yandex.Video.
HTTPS player requirements
Your player should meet the following requirements to display in Yandex.Video search results:
The player should be accessible over HTTPS, but working over HTTP is not mandatory. So if your site is only accessible over HTTPS, it's not a problem.

If your player is accessible over both HTTP and HTTPS, then the page address should only differ by protocol distinction. For example, a player on the http://mysite.com/embed123/ page should also be accessible at https://mysite.com/embed123/.

In this case you should enter the relative link to the player in the markup (without including HTTP or HTTPS in the address). This way players using either HTTP or HTTPS will launch automatically in accordance with the search page's network protocol.

To make sure that browsers don't automatically block your player, make sure that CSS elements, ads, and other scripts inside the player also work with HTTPS. Otherwise we can't guarantee that the player will playback clips correctly.