Completing tasks in the interactive online platform
Use our online platform to complete practical tasks. The Interactive Online Platform is an environment where you write and run programs and see the results. You don't need to install any additional software on your computer.
The platform has three sections:
Code editor

. The section for writing code. Each programming language has its own tab:

.html

,

.css

, and

.js

. If you make a mistake, be sure you're working in the right tab.

Task

. This section contains your current assignment. Each lesson contains roughly three to five practical tasks for applying theory.

Results window

. The code you enter in the editor is immediately run and the result is output to the window.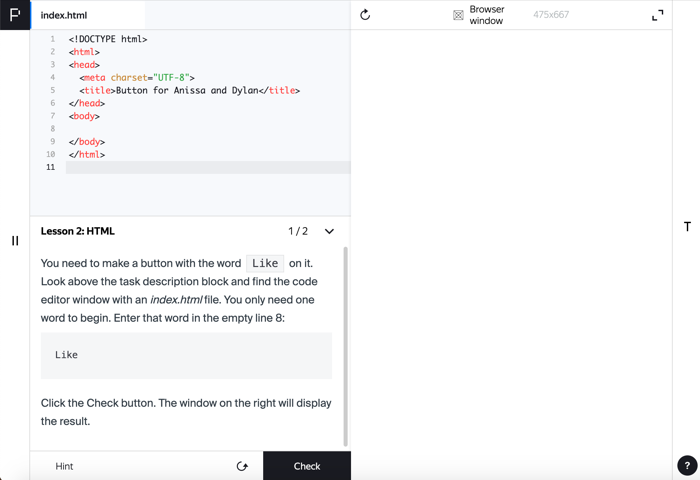 Start a task
Go to the course page.

Learn the theory.

Click

Let's go

. You'll be taken to the Interactive Online Platform.
Check your answer
Enter your solution to the task.

Click

Check

at the bottom of the page.
If you make a mistake, you'll see an error message at the top of the window.
Watch video
If everything is correct, you'll receive a message and see the Next button. It may take some time for your answer to be processed.
Watch video
Use hints
Click Hint at the bottom of the screen to view a hint.
Watch video
Read theory related to the task
Click

on the right side of the platform. A panel with the relevant information opens in place of the results window. To close the panel, click

.
Watch video
Start an exercise over
Even if you already started making changes in the code editor, you can always undo them and restore your code back to its initial state:
Click

at the bottom of the screen.

Confirm your action by clicking

Start over

in the pop-up window.
View results in fullscreen mode
Click

in the upper-right corner of the page. The results window expands to fullscreen.
To shrink it back to its normal size, click

.
Access the course menu
Use the menu to quickly access all the topics and lessons from your course.
Click
on the left to open the course menu.
To hide the menu, click

.
Watch video