Useful tips
Add a List-id heading to emails
This is necessary if you want to get detailed statistics for any group mailing.
With List-id you can:
view statistics for every email if they are identical

view statistics by email group if they have different subjects, dates, and senders.
For example, if you regularly change the month in the heading List-id: my favorite mail list <June 2014>, you can filter results based on the ID "June 2014", which contains all emails with that heading regardless of when they were sent, their subject, or the sender's address.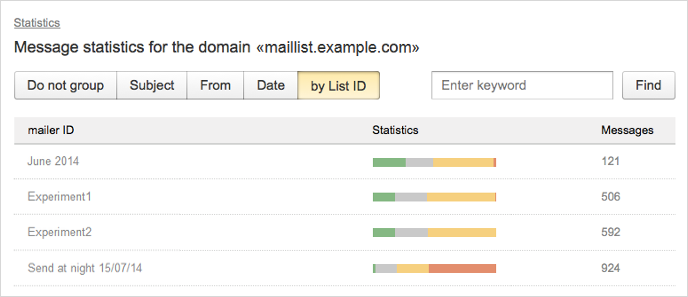 The contents of the List-id heading can consist of either text or an ID in angular brackets < >. Only ASCII characters can be used as an ID.
List-id examples

List-id: List Header Mailing List <list-header.nisto.com>

List-id: <commonspace-users.list-id.within.com>

List-id: "Lena's Personal Joke List" <lenas-jokes.da39efc25c530ad145d41b86f7420c3b.021999.localhost>

List-id: "An internal CMU List" <0Jks9449.list-id.cmu.edu>

List-id: <da39efc25c530ad145d41b86f7420c3b.052000.localhost>
Attention.
If you're having trouble changing headings of your mailing emails, please contact your system administrator.
Follow Post Office's suggestions
Use suggestions to increase your mailings' effectiveness: delete incorrect usernames, make your messages shorter, or send them at the time of your audience's highest activity.
Configure a digital signature and your domain's SPF-record
A digital signature and an SPF record are required so that emails from your domain are less likely to be labeled spam. If these parameters are not configured, it will be easier for hackers to create fake messages, which will cause more of your messages to be automatically moved to spam.