Logging in with two-factor authentication
If you enabled two-factor authentication, you can sign in to any Yandex service or application using your username and a one-time password generated by Yandex.Key. If you have several accounts, don't forget to switch to the appropriate account before entering your PIN code. You can also sign in to several web services using a QR-code
App passwords should be used for signing in to third-party apps and programs (mail clients, messengers, mail importers and so on),
Attention.
You can only use one-time passwords to log in to apps developed by Yandex; even correctly generated app passwords will not work.
Signing in with a one-time password
You can enter a one-time password into any Yandex sign-in form or official app.
Note.
You need to enter the one-time password before it stops displaying on the app screen. If there isn't much time left until the next password, simply wait for the new one to appear.
To get a one-time password, launch Yandex.Key and enter the PIN code that you created when setting up 2FA. The app will start generating passwords every 30 seconds.
Yandex.Key will not check the PIN code entered by you and will generate one-time passwords, even if you've entered your PIN code incorrectly. In this case though, your generated password will also be incorrect and you will not be able to sign in with it. To enter the correct PIN code, you just have to exit the app and launch it again.
Features of one-time passwords:
It makes no sense to save one-time passwords in your browser or anywhere else. If you do not use a password right away, it will expire in less than a minute.

You can copy your current password from Yandex.Key into another app. Just tap and hold the password until the app notifies you that the password has been copied.
Signing in with a QR-code
Some services (such as the Yandex homepage, Passport, or Mail) allow you to sign in to Yandex by simply pointing your camera at a QR-code. Your mobile device must be connected to the internet so that Yandex.Key can communicate with the authentication server.
To sign in with a QR-code:
Click on the QR-code icon in the browser.

If there is no QR icon in the login form, it means that you can only log in to this service with a password. In this case you can sign in to Passport with a QR code, and then go to the service you want.

Enter your PIN code in Yandex.Key and tap Log in with QR-code.

Point your device's camera at the QR-code which is displayed in your browser.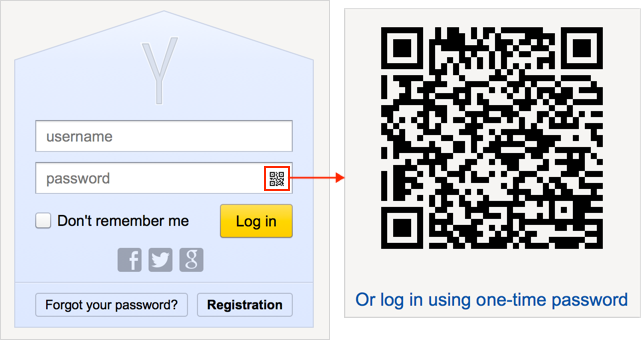 Yandex.Key detects the QR-code and sends your username and one-time password to Yandex.Passport. If they pass verification, you will be automatically signed in on your browser. If the password sent turns out to be incorrect (for example, as a result of entering the wrong PIN code in Yandex.Key), then the browser will display the standard error message that you entered an incorrect password.
Multiple accounts in Yandex.Key
The same Yandex.Key app can be used for multiple accounts with two-factor authentication. To add another account to the app while setting up 2FA during Step 3, tap the

button.
To remove an account from Yandex.Key, tap and hold the corresponding portrait in the app until a cross icon appears to the right of it. When you tap on the cross, that account will no longer be linked to Yandex.Key.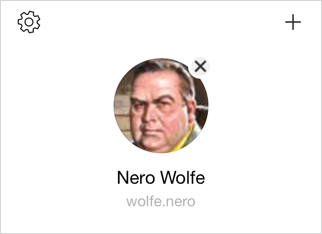 Attention.
If you remove an account which had two-factor authentication enabled, you cannot get one-time passwords to log in to Yandex. In this case, you will have to
restore access
.
Fingerprint instead of PIN code
You can use a fingerprint instead of a PIN code on the following devices:
smartphones running on Android 6.0 and those with fingerprint scanners

iPhone starting with model 5s

iPad starting with model Air 2
Note.
You can bypass the fingerprint scan on iOS smartphones and tablets, however, by entering the device's password. To prevent this from happening, set up a master password or make your password more complex. Just open the app Settings and select Touch ID and password.
To set up fingerprint scanning:
Launch Yandex.Key.

Click .

Select the desired account.

Enable Fingerprint (for Android) or Touch ID (for iOS).
Master password
Create a master password to further protect your one-time passwords. Go to

→ Master password.
A master password allows you to:
provide an additional layer of security when you log in using your fingerprint (you can log in just with your Yandex.Key master password instead of your fingerprint)

save your Yandex account PIN code in apps so that you don't have to enter it every time you need a new one-time password
Time needs to be set accurately for one-time passwords
While generating one-time passwords, Yandex.Key takes into account the current time and the time zone set on your device. When an internet connection is available, the app also asks for the exact time from the server. If the device's time is set incorrectly, then the app will correct it. Please note that in some situations, even after the app makes a correction and the correct PIN code is entered, the one-time password will be incorrect.
If you are sure that you entered your PIN code and password correctly, but you couldn't sign in:
Make sure that you have the correct time and time zone set on your device. Then try logging in with your new one-time password.

Connect to the internet so that Yandex.Key can get the correct time itself. Restart the app and try entering a new one-time password.
If the problem still doesn't resolve, please use the form below to contact support.