Log in to Yandex
To use Yandex personal services (Mail, Disk, and others), you must use one of the following log in methods:
Switch between accounts
If you have several Yandex accounts, you can switch between them without entering your other usernames and passwords: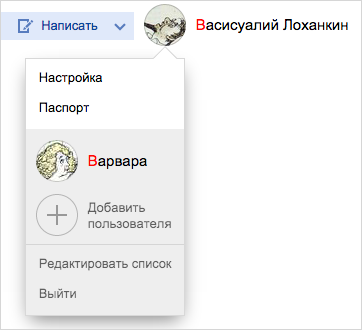 Just select an account in Passport and on other Yandex services that support this function. The account you select will be the main one and will be used to log in to services that currently don't allow you to switch between accounts.
You can add up to 15 accounts to the list. To delete an account from the list, switch to that account and click Log out. That account will disappear from the list and you will automatically be logged in to the next one.
Note.
The
Log out
link on the Yandex main page and in the search results will clear all accounts from the list. To continue working you will need to log in again.
To remove several accounts, go to Add account and click Edit list.
Don't remember me
If you entered your username and password on a given service, you only need to enter your password again if you haven't used Yandex services for three months. This is convenient if you're using your personal or home computer, but can be dangerous if you're logged in to a public computer (for example, at an internet-cafe).
The Don't remember me box lets you log in for a few hours only or until the browser is closed. Even if you forget to log out of your account, the browser will not recognize that you ever logged in after a certain amount of time has passed.
Note.
Do not allow the browser to remember your password if you are using someone else's computer — someone could use your account without even knowing your password.
As an additional security measure, it's best to log out of your account. Just click your portrait in the upper right corner and select Log out in the menu that appears. Several services have a Log out button in the upper right corner for this reason.
If you logged in on another computer and forgot to log out, go to the Log out of all computers link on the personal information page.
Two-factor authentication
No matter how good your password is, someone can still look over your shoulder or steal it (such as with a virus). To protect your account, you can choose to use one-time passwords exclusively.
You can learn more about one-time passwords and two-factor authentication in the Two-factor authentication section.