Step 4. Configure placement
After you upload your price list, you'll land on the Placement options page of the partner interface. Fill out all the parameters that apply to you.
General information
Fill out the main information about your store.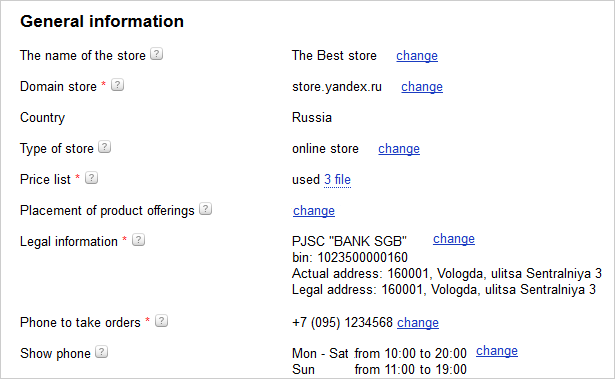 Product offer placement

You can pause, resume, or set specific times to display your offers on Yandex.Market. Possible parameter values:

Don't place offers — all your offers will stop being displayed on Yandex.Market and not be visible to users.

Round the clock — your offers will be visible to users every day and at all times.

On schedule (for example, "Mon-Fri 9:00–18:00") — offers will only be visible to users at the times indicated.

Time intervals must fall within one 24-hour period spanning 0:00 to 23:50 hours. For example, a time interval of "18:00–3:00" will be invalid.

To display your offers around the clock but not on every day of the week, set a time interval such as "day 1 – day 2 00:00–00:00" and your offer will be visible from the beginning of the first day through the end of the next day.

For example, for the interval "Mon-Fri 00:00–00:00", your offers will be visible from the beginning of Monday through the end of Friday.

Attention.

When you enter a specific time interval, remember that your store will stop displaying exactly at the end of that interval, but your offers may begin displaying at any time within a half hour (in either direction) of the stated start time. The exact start time depends on Yandex.Market's database indexation. For example, if you indicate that your store should start displaying at 9:00, it may actually start at any time between 8:30 and 9:30.

Legal information

Enter your company's legal information. This is required under Russian federal law #38 "On advertising" of March 3, 2006 and will be published on Yandex.Market. This information must also be included on your website. Enter a link to this page in the URL field.

Phone number for taking orders

Enter the phone number (or your call center number) where customers can call to place orders. The number you enter will display on Yandex.Market next to your store's offers. You can choose how to display your phone number :

Show the number to all Yandex.Market users.

Only show the number to users of the mobile app and mobile site.

Show the number to all Yandex.Market users by default.

Schedule for displaying phone number

Set a schedule for when your store or call center accepts phone calls.

Attention.

You must

use the UTC+03:00 time zone

to indicate when you can accept phone calls.

Your store's number will display on Yandex.Market next to your offers in accordance with the schedule you enter. The round-the-clock display mode is set by default and, thus, your phone number will also display next to your offers at all times unless you change this setting.

The total number of hours when customers can call should be no less than 40 hours per week.

How can I hide my number on Yandex.Market?

If a store is not registered as a legal entity in Russia and doesn't take orders in Russia by phone, please contact our support staff.
Delivery / Shipping
Set up delivery options for your region and others. This section only displays for online stores.

Your region, New region

Instructions for setting up delivery options for your region and others: Delivery.

Delivery service schedule

Instructions: The work schedule of your courier and delivery service.
Note.
If the product price list contains the parameter
downloadable
when the value is
true
, the offer will display in all regions regardless of the delivery region.
Points of sale
Create pickup points and physical points of sale if your store offers these options.

Search, Analytics
Set up tags in links and show different data on different types of Yandex sites.

Use price-list data on Search

Your store will participate in the snippet improvement program on Yandex search by default. In search results, your site pages are accompanied by structured descriptions of your product information, including its price and delivery conditions.

When this option is enabled for your store, Yandex search uses the same settings and price list that Yandex.Market does. If you want to use different price lists and store settings:

Enable the

Use price-list data on Search

option.

Go to the Yandex.Webmaster interface and register your store. Detailed information can be found in the Setting up your store section of Yandex.Webmaster help.

Note.

If you want to return snippet management for your store to your Yandex.Market profile, please let our

support staff

know.

External internet statistics

When this option is enabled, a special parameter (the Openstat tag) is added to the URL when a user clicks on a Yandex.Market offer and lands on one of your store pages.

Show rating in product placements

Mark this option if you want your store's rating to display in Yandex search and the Yandex advertising network.

Transmit Market click-through parameters in URLs

Check this option if you want to know the exact Yandex.Market pages that users click-through to land on your site. A frommarket tag containing information about the source page will automatically be added to URLs for your offers.