Step 4. Loading and verifying your price list
After you have specified the basic registration data, you will be taken to the Import of goods page. This is the page where you need to upload the price list that has been prepared for Yandex.Market or specify a link that the Yandex.Market bot can use to download your price list.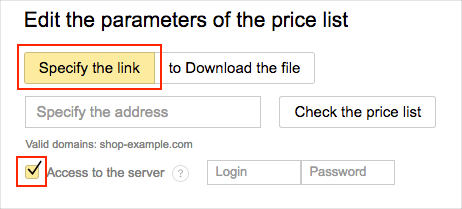 The address of the price list can contain Cyrillic characters, and it also does not have to be the same as the store address. You can specify the authentication data (login and password) by enabling the Access to the server option.
The results of the price list verification will be published in a report that can be found right on this page.