rec
Use the <rec> element to suggest accessories, supplies or other items that you recommend buying together with the primary product. For example, you can specify printer cartridges for a printer, coffee for a coffee maker, and cases for a phone.
Element requirements
The element should list the identifiers of the recommended products separated by commas with no spaces.

The <rec> tag cannot list more than 30 offers.

Recommended products must be listed in the same price list.

Each id can only contain numbers and Latin characters. Maximum length of one id: 20 characters.
Where recommended products are shown
The buyer will see the recommended products:
On the Frequently Bought Together tab on the main offer page.

In the Frequently Bought Together section after clicking Add to Cart.

In the shopping cart under the list of products.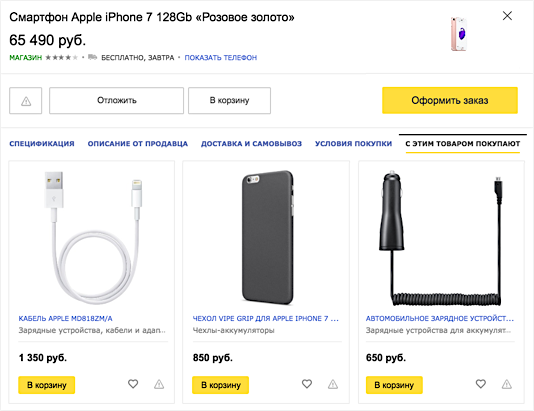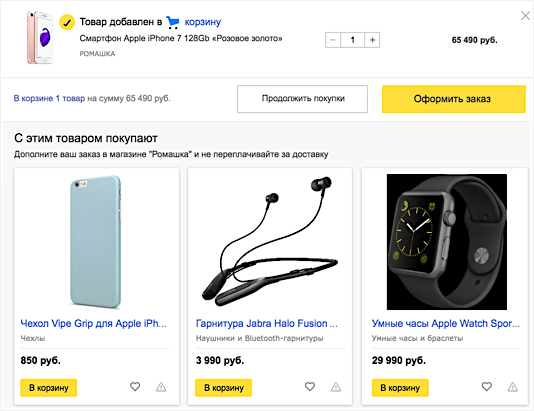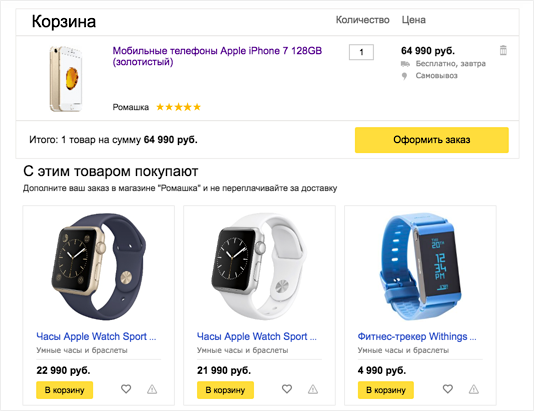 Display terms
Recommended products are shown only for offers that participate in the "Yandex.Market Quick Order" program.

Recommended products will not be shown if you have not specified a link to the image for the main offer or the system was not able to load the image using the link.
Example
<offer id="12346" available="true" bid="80" cbid="90">
  <name>Смартфон Apple iPhone 6s 128gb Space Gray</name>
  ...
  <rec>123,567</rec>
</offer>
<offer id="123" available="true" bid="80" cbid="90">
  <name>Apple Watch Sport 42mm with Sport </name>
  ...
</offer>
<offer id="567" available="true" bid="80" cbid="90">
  <name>Beats Powerbeats2 Wireless</name>
  ...
</offer>
In this example, customers are being recommended to buy an Apple Watch and Powerbeats2 accessory together with the iPhone 7 product.