Mobile Mediation
Mobile Mediation is a free platform that lets you display ads from multiple advertising networks (demand platforms) in a mobile app. Each advertising network offers ads for the impression, and Mobile Mediation automatically selects the one with the best price for the publisher.
Benefits of Mobile Mediation

The more advertising networks, the higher the chances that a suitable ad will be found for the placement.

The best offer is selected out of all the available offers.

Connecting to international advertising networks allows you to show relevant ads to users from different countries.
Mobile Mediation is available to iOS and Android app owners. The Yandex Advertising Network is enabled as one of your available advertising networks by default. You can also configure impressions from other advertising networks:
AdMob

AppLovin

Meta Audience Network

ironSource

MoPub

myTarget

StartApp

Unity Ads
AdColony

AdMob

AppLovin

Chartboost

Meta Audience Network

ironSource

MoPub

myTarget

Pangle

StartApp

TapJoy

Unity Ads

Vungle
How it works
When the user goes to the ad screen, the app sends a request to Mobile Mediation. The platform begins to determine which ad from which advertising network will be the most profitable.
For networks that use In-App Bidding, Mobile Mediation requests bids directly from all networks at the same time.
Advertising networks connected via Smart Waterfall also compete for impressions. After the bidding networks respond, the ML algorithm predicts whether other networks can offer higher bids:
If the algorithm determines that it's possible, Mobile Mediation sends an ad request to the network.

Otherwise, it immediately serves the most profitable ad from the bidding network.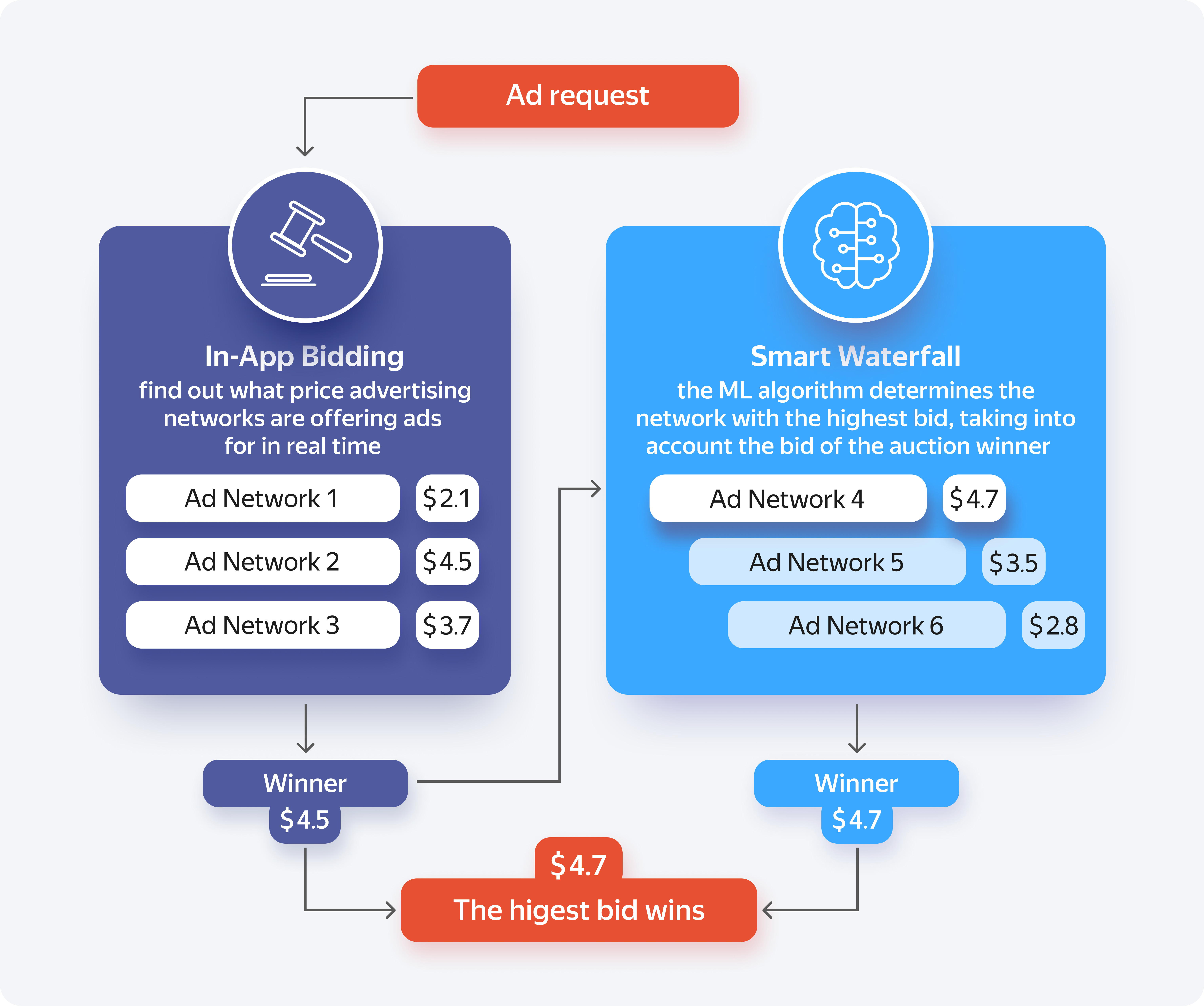 Payments
Mobile Mediation doesn't aggregate payments from other advertising networks. This means that you receive remuneration for ads from third-party networks directly from those networks.
Remuneration from the Yandex Advertising Network is paid when your earnings reach a certain threshold. The threshold amount depends on your partnership type and country of residence. Learn more about payments in Remuneration payment.
Statistics
To create a Mobile Mediation report:
Change the statistics level: instead of

YAN

, select

Mobile Mediation

in the drop-down list on the left.

Create a report based on a template or create a new report from scratch by following the

instructions

.
You can also open reports for a specific app or ad block in the Mobile Mediation section. To do this, click

next to the app you wish to view a report for.
Mobile Mediation reports show estimated revenue in the relevant currency and rubles by day, demand platform, ad placement, and ad type. The reports are based on data calculated via impressions and thresholds established on demand platform blocks. For more information about Mobile Mediation reports, see the section Mobile Mediation statistics features.