Dashboard and statistics widgets
is the main page in the Yandex Advertising Network interface. It is the first thing that the user sees after logging in or clicking on the first menu item. This page consists of widgets. You can display widgets on it that will present statistical reports, including both standard ones and those created in the Report Wizard. You will find useful links in a separate text widget, including, for example, to new tools or training materials.
Statistical widgets
You can add a widget that displays any statistical report of your choosing, such as earned remuneration over a selected period, for example. The widget can be saved as a graph or table.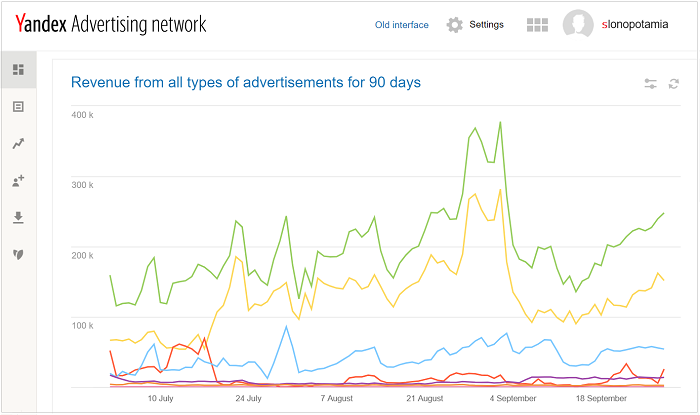 You can add the widget from a list of standard and saved reports from the Report Wizard:
When you mouse over the line with the report name on the page, the Add to Dashboard button will appear.

On the page (in the Report Wizard), click Save as Widget at the bottom of the page.
If you delete the report on the page, its widget will disappear from the dashboard.
Editing widgets
Click on the
Edit Widgets
link in the upper part of the screen to:
create a new statistical widget

change the positions of widgets on the dashboard

select the widget area as a percentage (to place two widgets side by side)

delete widgets that you no longer need