View statistics
Your podcast statistics on Yandex Music are created in Yandex DataLens. You can look up the number of listens and listeners for any period, see an assessment of how specific episodes performed and how many full listens there were, as well as a comprehensive portrait of your audience. You can grant access rights to colleagues and partners and edit the dashboard as you like.
You can view your podcast statistics in your personal account.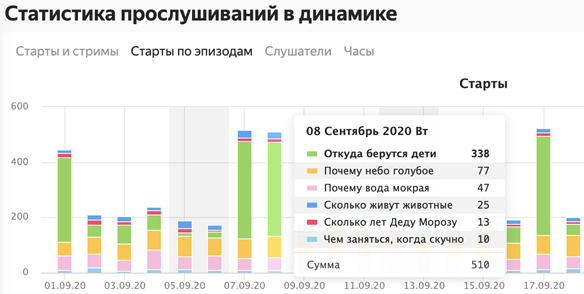 Attention.
If you already work with podcast analytics, install the updated version of Yandex DataLens.
After updating DataLens, you will have access to:

Data about unauthorized listens.

Data about listens by time and days of the week.

Detailed portrait of podcast subscribers.

Subscription dynamics.

Granting and restricting access rights.

Editing your dashboard: change the appearance and order of graphs and selectors, delete those you don't need, and create new ones.

Percentage of listens and full listens of your podcasts.






Enable statistics
Attention.
If you have already used statistics, please enable the updated version only via the form in your account.
If you are viewing statistics for the first time, follow the instructions below.
Link an email address

To open the statistics, you need a Yandex email address linked to all your podcasts. You will later be able to grant access rights to any number of Yandex accounts.

You can't link other email addresses to Yandex DataLens. The email linked to podcasts is the email you entered when uploading your podcasts. To change the email address, contact us.
Activate Yandex DataLens

Go to

the Yandex DataLens home page

. Click

Activate Yandex DataLens

and select the cloud to create an instance of Yandex DataLens. The first cloud under your account will be

default

. Select it.

What is a cloud?

Yandex DataLens opens on the

Yandex.Cloud

platform. You can use Yandex.Cloud to store any amount of data in a virtual space — the cloud.

To get a link for enabling statistics, fill out the

form

.

Follow the link from the email and enter the connection name

My Podcast

(you can enter any name).

Click

Get key

and grant the required permissions.

To check the settings, click

Check connection

. If verification fails, make sure that your current Yandex account has access to podcasts.

Click

Create

. This will open a folder with a set of standard objects that your statistics are based on. You can edit and add standard objects as you like. Read more about each tab in

Analyze podcast statistics in DataLens

.

Yandex Music podcast analytics is the main page where you can view statistics with all available widgets (charts, tables, filters). To find it, open the DataLens menu and go to Dashboards.

DataLens menu

Tip.

Save the link to the dashboard in browser bookmarks for quick access
Revoke access to statistics
Open

.

Click

and select

Permissions

.

Select a user and click

Revoke permissions

.

To completely disable the user's access to your dashboard with podscaster statistics, follow these steps:

Find the user, click the icon next to the new user, and select

Delete

.
If you have any problems accessing statistics, please contact us.