Dashboard
The Dashboard page summarizes statistics for your website. Use this information to quickly evaluate traffic dynamics, traffic sources, the quality of pages on the site, and more. Statistics are displayed using widgets.
To analyze data, you can change the time period to display and itemize the data.
Widgets provide information in various forms:
Graph

Displays dynamics of data over the selected period. For example, changes in the number of users over a month.

Indicator
Pie chart

Displays data by group. For example, the number of users, grouped by source types (direct hits, search engine traffic, and referrals from other sites).

Table
You can use ready-made widgets that are provided in the widgets library, or create custom widgets and configure them.
Widgets library
The library contains sets of ready-to-use widgets that will help you analyze website performance, such as:
Evaluate the quality of website pages.
Get the top popular pages, external links, and others.
Get information about conversions and the conversion rate.
Evaluate the effectiveness of traffic and its sources.
Check the speed of the website.
If these widgets don't provide enough data, you can create new widgets with the settings you need.
Creating and configuring widgets
Click Create widget and select the desired type (for example, a graph). A new widget appears on the page. By default, this widget already contains a set of parameters. To change them, click

.
The settings panel looks like this: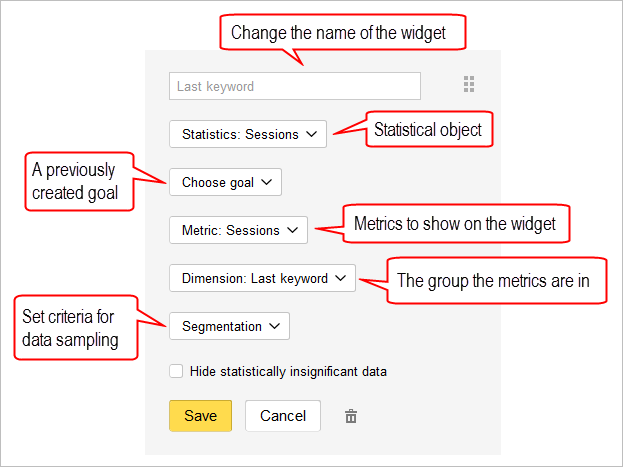 For example, you can use the settings to make the graph show dynamics of sessions only from Yandex Search — segment sessions by traffic source. For more information, see the section Receiving and displaying data. Metrics.