Paying for services
To pay for Target Call, go to the page and click Add money in the Personal account section.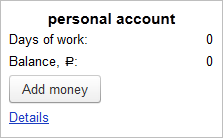 When making the first payment, you must confirm your agreement with the offer. After confirmation, a window will open to add money to your personal account.

Indicate the amount of numbers and the days you will use the service. The top-up amount cannot be less than 330 rubles.
Then follow the service's instructions.
Funds start being deducted from the time the number is enabled in the Target Call interface.
If money on the account runs out, phone number substitution on the site and redirection of calls will be turned off.
Prior to disabling numbers, notification of depletion of funds is sent to the payer's email address. This notification is sent by the Yandex.Metrica service 7 days, 4 days, and 1 day prior to disabling a number, as well as on the day it is disabled.
When funds have been added to the account, the number is enabled within twenty-four hours.
Payment methods
For legal entities (businesses)

Cashless payments are available for businesses. The originals of accounting documents (bill, invoice, and statement) are sent by e-mail (usually at the end of the month). You can also print unpaid bills with a facsimile seal and signature in the interface.

You can pay the bill in one of two ways:

at any bank that accepts payments from businesses.
using a bank card issued to the business.

When paying through the bank, the account is credited after Yandex receives payment confirmation. We check information about payments every three hours using an online statement system.

For individuals

Individuals can pay for advertising in the following ways:

using the Yandex.Money online payment service.
using the WebMoney system.
using a bank card.
with cash at any bank that accepts payments from individuals.

In most cases, the payment is credited to the account within 15 minutes. When paying through a bank, the account is credited after Yandex receives payment confirmation.
Refunding money
To process a refund, contact the payments group. Explain the situation to their specialists and give them the account number that was paid for.
Email: info@balance.yandex.ru
Phone: +7 495 739-22-22, ext. 2345 — for Moscow, 8 800 333-96-39, ext. 2345 — for the rest of Russia (free call from all regions).
Calls are accepted on business days from 9 a.m. to 8 p.m. (local time). A specialist will send you a form for requesting a refund. The refund will be made when the correctly completed original refund request is received by the Yandex accounting department.