Calls
If your website's customers frequently call your business to verify information or confirm orders, you can track these calls and link them to those users' actions on your site. In particular, you can find out the number and type of calls, and the end result, such as whether a purchase was made after visiting your site.
To get this information, you need to use a call tracker that will transmit call data to Yandex.Metrica via the API. Calls are considered offline data, and in order to send this data to Yandex.Metrica, your site must use a system of user identifiers (ClientID or UserID). Before you start sending data, enable the extended conversion (call tracking) window. For more information, see the API documentation.
The call tracker can transmit additional information about calls. After this information is processed, you will find it in the Calls group of reports.
In Yandex.Metrica, calls are tracked using goals. The first time data is transmitted from the call tracker, a special goal is created. You can see it by going to Settings → Goals. Names and descriptions of goals can be undefined (indicated data is sent through the API).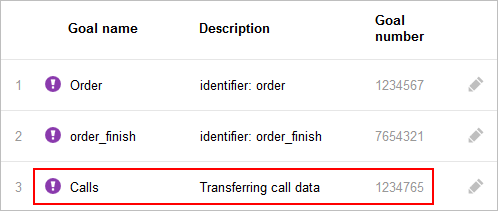 You can add a goal to any of the reports available in the service. When a goal is added to a report, the goal metrics become available for this goal (based on the transmitted information). The same metrics are provided in the "Call processing quality" and "Call sources" reports. You can choose a goal and its metrics as conditions for creating a segment.
In addition, you can use the goal and segments when advertising in Yandex.Direct and Yandex.Display, and for using the Yandex.Audience service to find potential customers (using look-alike technology).