Stop card
A stop card is a toolbar with information about a public transport stop.
Click on the appropriate stop (

). The icon expands and the stop card is displayed on the slide-out panel on the left side of the screen: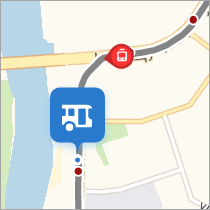 Stop cards display:
Buttons:

Save

— Click it to save a stop to your

My transport

list.

Share

— Click it to copy the stop link or geographical coordinates to the clipboard.

Send to phone

— Send the stop link to the Yandex.Maps mobile app on the mobile device linked to your account (or the link to install the app if it isn't installed yet).

Tabs:

Overview

— A complete list of public transport routes that stop at the selected stop and upcoming arrival times of vehicles for each route.

Schedule

— A schedule for each route.

If there are multiple routes, click All routes to see the schedule for all routes.

Select the desired route to see only its schedule. If you selected one route, click

Reset filter

(under the schedule) to return to viewing the schedules for all routes. The card shows the schedule for the current day. To view the schedule for another day, click

Today

and, in the calendar that opens, select the desired date in the nearest month.

If you select a stop with no boarding, the schedule shows the No boarding mark.

Edit information

— Click it to send information about a possible error in the stop details to Yandex.Maps support:

There is no stop here.

Incorrect name.

Incorrect location.

Incorrect set of routes.

Information about metro stations and public transport stops near the selected stop.

Link with the name of the street where the stop is located. Click it to highlight this street on the map.