2.10.10. Author notifications
Every Yandex Map Editor author can view their activity history (list of notification), including:
About your

edits

, meaning item edit and creation transactions (see

My edits

).

For

comments

that they added to map items (see

Comments

).

For the edits of all users within the bounds of the shaded areas (see

Subscriptions

).
To view your notifications list, click Notifications

.
If you got a new message and haven't read it yet, then you'll see a red dot on the button:

Note.
Personal messages and comments to your edits are sent to Yandex.Messenger. Message notifications are displayed in the lower-right corner of the screen:

In the Notifications window, there are three tabs:My edits, My comments, and Subscriptions: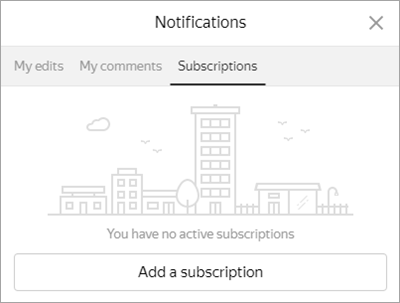 My edits

My comments

Subscriptions
To exit the "Notifications" window, click Close

.