3.8.2. Parkings. Rules for drawing and adding attributes.
3.8.2.1. Rules for drawing Parking lots
When drawing parking:
3.8.2.1.1

Draw "Parking" items using placemarks (although some parking lots should be drawn as "Territory" items — see point 3.8.2.1.1.4. Parking items include the following:

3.8.2.1.1.1

3.8.2.1.1.2

3.8.2.1.1.3

3.8.2.1.1.4

3.8.2.1.2

The techniques for drawing and editing parking lots are similar to the techniques for drawing and editing all places on Yandex Map Editor. See Section 2.5. Places.
3.8.2.2. The rules of attribution of Parking
The attribute panel for a parking lot looks like this: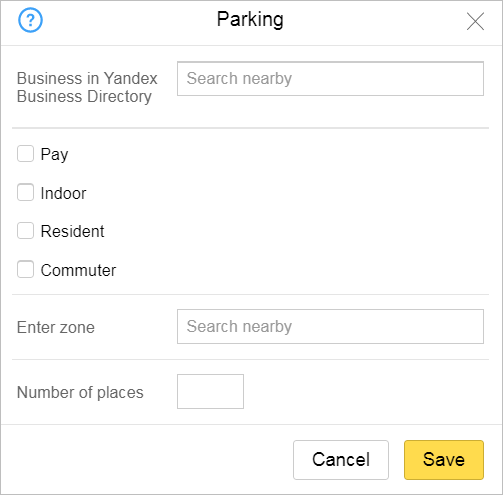 Rules for adding attributes to parking lots:
3.8.2.2.1. Paid

Check the box if the parking lot is paid.

3.8.2.2.2. Resident

Check the box if the parking is for residents.

Residential parking includes lots where entrance requires a permit. This designation also includes handicapped parking and parking lots intended for vehicles other than passenger cars (trucks, motorcycles, and so on).
For example: fenced-in parking of various organizations, underground and ground-level parking at residential homes where entrance has a barrier or lifting gate.

Note.

Separate handicapped parking spaces in public or restricted parking areas are not drawn as places. You can only draw them in

"Indoor maps"

and

"Parallel parking"

layers provided they meet the drawing rules.

For resident parking, "don't check" the paid box.

3.8.2.2.3. Indoor

Check this box if the "Parking" item represents the entrance to an underground parking lot or parking that partially or completely occupies the building.

3.8.2.2.4. Number of places

Enter the number of parking spots.
3.8.2.3. Linear Park: the rules of drawing and attribution
3.8.2.3.1

Draw lines of parking spots as simple linear items.

3.8.2.3.2

Only draw lines of parking spots that are located within localities.

In localities, only draw parking lots along roads of classes 1-7 and only if road signs directly forbidding/permitting/restricting parking are present, or if there are dedicated parking spaces where parking is allowed.

In cities, you can draw lines of parking spots in more detail along roads of class 1-7 if you follow the signs and markings (or refer to the traffic laws if there aren't any signs).

You can also draw parking lots along class-8 roads if they don't have their own separate territory (are located on the edge of a roadway) and are part of an urban paid parking network.

The Parking attribute value (free/paid/restricted/allowed) depends on the availability of parking space for cars: if parking is prohibited for trucks but allowed for cars, the attribute value is "allowed".

3.8.2.3.3

When drawing lines of parking spots, you must make sure that their shape corresponds to that of the road network on the map (since the satellite image may be outdated).

If there are different types of parking in the same general area, draw them separately (blue arrows):

On class 1-7 roads, draw parking spot lines (including parking pockets) along the edge of the roadway.

3.8.2.3.4

Lines of parking should not intersect with roads of class 1-8 except when the road section and the line of parking spots are located at different levels.

For example:

You can only allow parallel parking to intersect with a building if the road that you are drawing the parking along runs through an arch.

For example:

If a line of parking spots is interrupted by an exit from a residential complex or other area perpendicular to the line, it is drawn with a gap that matches the actual borders on the exit.

3.8.2.3.5

Don't draw parallel parking:

Along roads of class 7 where traffic is restricted, including roads that are under construction, class-7 pedestrian paths, and roads located on closed territories. For example, on the closed territory of Nikolsky Ln.:

Don't draw parking in area where it is forbidden (such as between sections of a road drawn using two lines where the roadways are divided by a barrier, lawn, tram rails etc., or along exit ramps or u-turn areas.

3.8.2.3.6

You can usually determine the value of the Time limit attribute for parallel parking based on road signs or markings (or refer to the traffic laws if there aren't any signs):

Free parking — if signs indicate that parking is free.

If you are allowed to park for free more than 40% of the time from 8:00 to 20:00 during the month and the rest of the time parking is prohibited, then indicate that parking is free. Otherwise, mark that parking is forbidden.

Paid parking — if there is a paid parking sign, even if there are times when parking there is free (during certain days of the year, not all hours of the day, etc.).

Indicate that parking is paid if there are signs that indicate that you must pay to park at certain times (during even or odd days of the month, etc.) and at other times parking is forbidden.

Restricted parking ─

If a marking or sign reserves parking for certain categories of individuals (such as the handicapped).

If parking along a street is for residents and only employees of neighboring organizations can park their cars there.

Parking for customers of restaurants, hotels, etc.

Forbidden parking — if parking or standing is forbidden.

Note.

The parking lot is set to Forbidden even if its sign doesn't apply to all groups of people and doesn't have any extra description (e.g. the "No parking" sign doesn't apply to the disabled).

In cities, you can draw lines of parking spots in more detail along roads of class 1-7 if you follow the signs and markings (or refer to the traffic laws if there aren't any signs).

3.8.2.3.7

If parking availability is changed temporarily (during the winter or road construction), edit parking attributes only if new road signs are installed or in accordance with the traffic regulations.

The news sources that mention temporary changes in the parking rules can't be the basis for making such edits.
Attention.
Don't
use editing tools to create new items by dragging existing ones to the appropriate location and changing their size or attributes when you edit lines of parking.