Folders
Standard folders
The following standard folders are included in your mailbox:
Deleted. All emails that you manually deleted or that were deleted by a message filter you set up.

Spam. Emails determined to be spam.

Outbox

. Emails that were not sent due to problems with the internet connection. Once the Internet connection is restored, the emails will be sent automatically.

Archive

. Folder for old emails.

Note.

If the

Archive

doesn't contain any messages, the folder will not display. To move a message to this folder, right-click the message and select

Archive

.
The standard folders can not be edited or deleted.
Personal folders
To add a personal folder, click Create folder. You can add several personal folders: they will display as subfolders in your Inbox.
You can edit your personal folders by going to Settings

→ Folders and labels:
Create subfolders inside your

Inbox

folder

Rename, empty, or delete folders

Mark all emails in a folder as read

Create filters to sort emails automatically
Note.
You can create up to 1,017 personal folders and up to 32 layers of nesting.
Sort lists of personal folders
Personal folders in a list can be moved and reordered by dragging and dropping the folder to a new place in the folder list.
If you can't drag a folder, check that the allow dragging and dropping of messages and folders option is enabled in your mailbox settings.
Your personal folders are sorted in alphabetical order by default. If you drag even one folder to a new location, you will not be able to automatically restore the alphabetical ordering. You can, however, manually drag the folder back to its previous location. If you drag folders out of order, new folders will appear at the bottom of the list (rather than in alphabetical order).
Folders I created disappeared
Check that the folders you created are in the list of all folders in your mailbox settings. If you see them there but they do not appear in your message list, it means that your list of personal folders is collapsed. Click the corresponding icon to expand the list.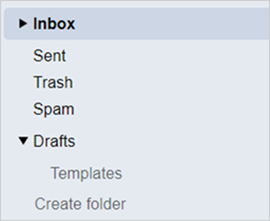 Your list of folders can also be collapsed so that only the icons are visible. In this case, only folders with unread messages and system folders will display. To expand the list of folders, click

: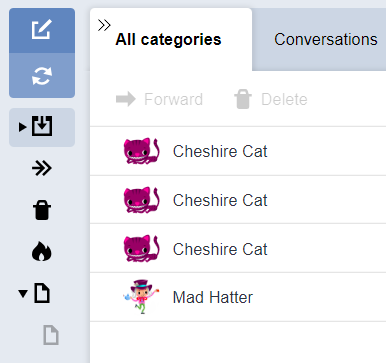 Move message to a folder
Delete all messages from a folder
Go to

.

Select a folder and click

Empty

.

Move your emails to the

Deleted

folder or delete them forever.

Note.

You will not be able to recover messages that were deleted forever.