Creating and sending emails
Write a message
To create a new email, click

in the top right corner of the screen.
Enter the recipient's address in the To field or select the contact from the address book. As soon as you start typing the first letters of a name, surname, or email address, you will see a list of matching contacts.

To search names or surnames, you can use Cyrillic instead of Latin characters and vice versa. For example, to send your Russian friend "Ivan Petrov" an email, you can start typing his name using the Latin "I" or the Cyrillic "И". Recipients you have recently corresponded with will appear at the top of the list.
To display popular contacts under To:
Go to

.

Select the option

Display often-used contacts when writing a message

.

Save the changes.
Note.
If in addition to the names of the senders and recipients in the

To

field, you also want to see their email addresses, follow these steps:
Go to .

Deselect the option

Show sender and recipient names instead of email addresses

.
To move an address from the To field to another field (for example, Cc), drag the address you need by pressing and holding the left mouse button.
Select the recipients
Send message to multiple addresses
You can send your message to several recipients at one time. To do this, enter several addresses separated by commas and spaces in the To field. For example: cheshire.katze@yandex.com, just.mad.hatter@yandex.com, just.white.rabbit@yandex.com.
Note.
One message can be sent to no more than 50 recipients in the Mail web interface and to no more than 35 in the mail program.
If you have one main recipient and several optional recipients, type the main address in the To field and then type the remaining addresses in the Cc field.
Every recipient will be able to see all the addresses entered in the To and Cc fields. If you want to hide certain addresses, then simply move them to the Bcc field.
Attention.
A recipient entered in the Bcc field may not get your email because some spam filters delete these types of emails.
Send a copy as SMS
You can send a copy of your message to the recipient's mobile device, free of charge.
The following restrictions apply to sending SMS messages:
Only one recipient should be listed in the

To

field.

The SMS copy can only be sent to one phone number.

You can't send a copy in an SMS to yourself.
Click SMS in the To line (next to the recipient's name). If your mobile phone number is not linked to your mailbox, then you have to verify it first.
If a contact's phone number is listed in your address book, then the number will be automatically copied to the SMS field. You can also manually enter a mobile number.
Attention.
Carefully check your data. Make sure that both the email address and the phone number belong to the same person.
After you send the message, the recipient will receive an SMS with a link to a read-only copy of the message. To respond to the message or to view attachments, they will have to use the Yandex.Mail website, the mobile application, or the Yandex.Mail mobile interface.
Send message from another address
You can send messages from your main Yandex address, your Yandex aliases, or from your email addresses in other services.
Mail aliases
When you sign up for a Yandex account, you get a mailbox with your country's domain, such as alice.the.girl@yandex.ru, as we as addresses with the ru (Russia), by (Belarus), kz (Kazakhstan), and ua (Ukraine) national domains, and the com domain. These addresses are the aliases of your primary email address.
Aliases are necessary in order to ensure that your username belongs exclusively to you. If you sign up for a Yandex account in Russia, another user in Kazakhstan, Belarus, or Ukraine will not be able to clone your mailbox with the same login.
Note.
If you created a mailbox with a username that contains dots, for example, alice.the.girl, you will also get an alias with hyphens (alice-the-girl).
You can select which address to send messages from under Settings

→ Personal data, signature, picture. This alias will be used by default for all messages.
You can also use your phone number as an alias.
Email addresses on other services
If you want to send a message to a recipient from an email address you have on another service (such as Gmail or Mail.ru), then enter that email address on the Email addresses page and confirm that you have access to it. Once you've confirmed it, you can select either your Yandex email alias or your email address on another service in the From field.
Attention.
If you used another email service to add your additional email addresses,
configure the email importer
to send your messages from that service to your Yandex mailbox. You won't be able to send messages from that mailbox without setting up the email importer. When you set up your mail importer, enter your complete address (instead of your username). For example,
cheshire.katze@forestmail.com
.
If you can't send emails from your address on another service (for example, Gmail or Mail.ru) even after you have correctly configured the importer, it means that the security rules for that service prohibit sending emails using other services (including Yandex.Mail).
Create message templates
If you frequently send similar or identical messages (e.g., invitations or CVs), you can save them as templates. Unlike drafts, templates will not disappear once your message is sent. All templates are reusable, so you can easily compose template-based emails to your partners, colleagues, or friends.
To create a template, open the message creation form and then click Template in the Subject field: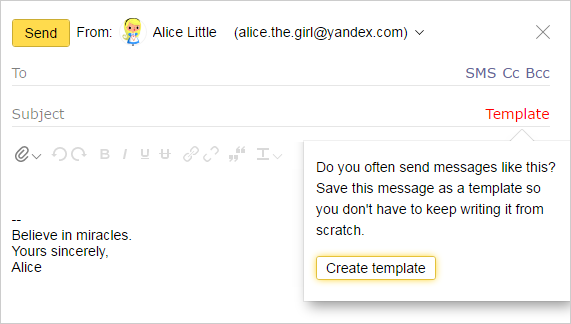 Click Create template, specify a subject, and then type the message body. You can also add an attachment here.
Once the template is ready, click Save template. Now you can open the necessary template directly when composing a message. Just click the Template link and select one from the list.
All templates you have created are stored in a separate subfolder in Drafts. They only contain the subject, attachments, and message body text (without recipients).
Additional features
Format text
The formatting toolbar lets you embolden or italicize text, change the color or font size, create bulleted or numbered lists, insert an image in your email, and more.
Formatting is enabled by default and the toolbar looks like this:

If you want to disable formatting, click
Without formatting
and the button will turn yellow:

Insert image in email
There are several ways to insert an image into the email body (instead of adding it as an attachment):
Using the clipboard

Copy the image to the clipboard: for example, if you want an image from another site, right-click it and select

Copy image

.

Open the compose an email page, right-click the place on this page where you want to insert the image, and click

Paste

.

Dragging and dropping from a computer

Drag and drop the image on the compose an email page.

Note.

If you drag and drop an image to the text box, the image will be inserted into the message body. If you drag and drop an image below the text box, it will be attached to the email.

Using the formatting toolbar

Click

on the formatting toolbar above the text box.

Enter a direct link to the image and click

Add

.
Restriction.
If the image doesn't insert using any of these methods, then check that
formating is enabled
for your email. The formatting toolbar should look like this (the
Without formatting
button is not yellow):

Drafts
When you write an email, all changes you make are automatically saved as a draft every 10 seconds. You can put aside an email you're writing and edit it later. To edit a draft, simply go to the Drafts folder and open the last saved version of your message.
Message delivery notification
If you want to get a delivery notification, click

(below the input field) before you send the email.
Once the message is successfully delivered, a report will be sent to your mailbox.
Attention.
The report confirms that the email arrived in the recipient's mailbox, but does not tell you whether or not it was read.
Reminder about resending
When you send an important message that needs a reply from a recipient, you can set up a reminder about resending this message. Just click

(below the text box) before you send it.
If your recipient does not respond in 5 days, you will receive a reminder to send the message again.
To view all your messages that have not yet received a response, click

under the list of folders.
Delayed delivery
If you want your message to be sent on a certain date and time:
Click

(below the text box).

Enable the

send <on> <at>

option.

Set the date and time when you want the message to be sent.
Note.
You can postpone sending your email for up to one year from the current date.