Parking
To show parking areas, tap the Parking

button (to turn this mode off, just tap it again).
Note.
The button only works in areas where the app has information about parking.
See also the group of Layers settings.
Types of parking are denoted by color:
Blue — free public parking

Blue with the national currency sign — paid public parking

Red — areas where parking is forbidden: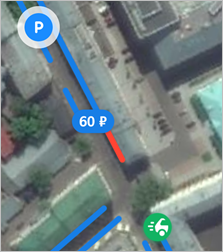 The

icon shows recently vacant parking spots; tap the icon to see comments.