Public transport
To display public transport routes, tap Moving transport

on the homepage. To turn it off, tap it again.
Note.
To make it easier to find on the map the routes and stops you need, add them to the
My transport
list.
Transport types display as icons that move along the map in real time:
— Buses
— Trolleybuses
— Trams
— Minibuses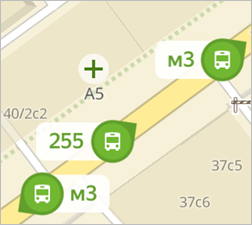 Tap the icon to see the selected route and route card (the number of stops and its final stops):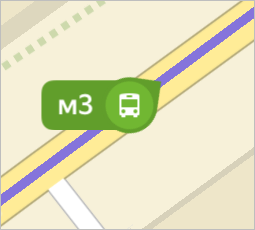 Tap the icon of a stop
to open its public transport stop card. The card contains the following information:
Names of stops.

Icons for types of transport that stop there (buses, mini buses, etc.), including route numbers:

Minutes remaining before the next public transport vehicles arrive at your stop on the current route.

Save to My transport

(

) button. Tap this button to save a stop to your

My transport

list.
Note.
See also the group of Layers settings.