Apple Watch
The Yandex.Maps app is available for Apple Watch.
Install the app
Pair your iPhone with Apple Watch.

Note.

The ability to pair is determined by the iPhone generation, the Apple Watch series, and iOS versions running on them.

Install the Yandex.Maps app on your smartphone and on your watch (from the Watch app on your smartphone).
Run the app
Press the wheel (digital crown) on the side of the watch to go to the home screen.

Click the Yandex.Maps icon:

This opens the main screen of the app:

It displays a map and a traffic card.

If you added your Home and Work address to Yandex.Maps favorites on your smartphone, the traffic card displays information about the time it'll take you to get home from your current location (if you didn't add your Home address, it shows information for Work). If you didn't save these addresses, the travel time isn't displayed.

If your current location is near a public transport stop, a card with the nearest stop is shown under the traffic card.
Select a mode
Map
The display shows a map of your current location that is marked with a

badge.
Note.
For more information about location services, see My location.
You can:
Change the map scale

Turn the digital crown clockwise to zoom in or counterclockwise to zoom out.

Move the map

Drag the map in the direction you want.

Your location shifts and the button appears on the display. Tap it to return the map to its original position.

Return to the home screen

Tap .
Stop
If you are close to a public transport stop, it shows up on the map. Tap it, and a stop card will appear next to the map: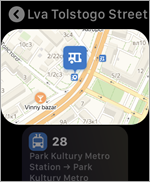 Scroll through the card to see all the public transport routes that stop here. You will also see the last stop of each route and the approximate waiting time for the next bus.
Note.
For more information about different types of transport, see Public transport.
Traffic
Tap the traffic card to display traffic mode (only available if the app has traffic information. If such information isn't available, you'll see the message "There is no data for this region" on the screen):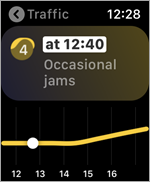 The traffic card features current traffic data. Turn the digital crown to view traffic forecasts for the next six hours.
Note.
For information about traffic levels, see Traffic.
Weather
Tap the weather card to switch to weather mode: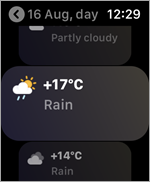 The screen will show current weather info. Turn the digital crown or swipe through the cards to view the weather forecast for the next ten days. Each day features two cards (one for morning and one for evening).