Configuring the domain
For each confirmed domain, you can set up an alias (get messages from addresses on another domain), choose the default address, and create an address book with shared domain contacts.
You can use the Yandex.Mail for Domain API to assign additional administrators. These administrators can manage the domain's mailboxes, but not the general configuration.
Domain alias
This function is useful for people who have more than one domain. You can add an alias to any of your domains.
What is this?
If one of your domains is already connected to Yandex.Mail for Domain and has some mailboxes, then you can make the second domain its alias. This means that emails sent to the mailbox with the same name in the alias domain will also be delivered to the main domain mailbox.
Example

If you make the domain "yourdomain2.tld" an alias for "yourdomain1.tld", the address "user@yourdomain1.tld" will also get messages sent to "user@yourdomain2.tld.
How do I add a domain alias?
Select the required domain in the list

Choose the alias in the Domain alias list.

An alias must be a domain that doesn't have mailboxes and is already connected to Yandex.Mail for Domain. If you don't have any domains like this, the drop-down list is empty.
You can add an unlimited number of aliases for one domain.

Default address
You can make any of the mailboxes on the domain the default address. Emails sent to a nonexistent mailbox on your domain will arrive at this address.
To assign one of the mailboxes as the default address:
Select the appropriate domain from the list (if several domains are connected).

In the

Default address

list, choose a mailbox.
Shared domain contacts
Email addresses that belong to the same domain can be combined in a shared address book. When filling out the To: field, these addresses will be displayed as pop-up hints.
Note.
The domain's email addresses that are grouped into a shared address book are available only as pop-up hints. They will not be visible in the address book with the user's personal contacts in the Yandex.Mail web interface.
To create shared contacts, go to the domain settings and click the enable link next to the corresponding item: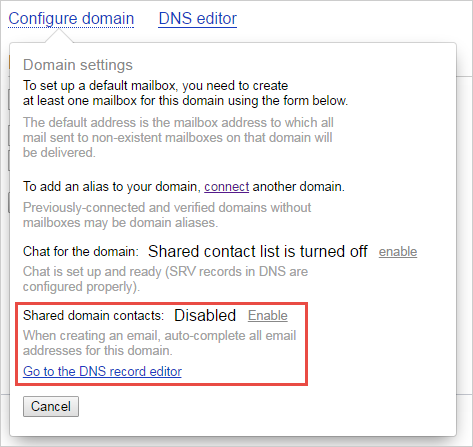 Additional administrators
Additional administrators can manage mailboxes and their settings, but they don't have access to the domain settings and DNS records.
You can add administrators via the Yandex.Mail for Domain API.