Notes in Yandex.Disk for Windows
You can create notes with the Yandex.Disk program for Windows. They are automatically saved in the cloud and won't be lost even if something happens to your computer. You can also use your notes on several computers at the same time, for example, at home and at work. To do this, sign in to Yandex.Disk on both computers.
Restriction.
Notes are only installed on computers running OS versions 7 and later (Windows 7, Windows 8, Windows 8.1, Windows 10).
Create a note
Click the button New note. Dictate the text in a note or type it. Make it easier to navigate in the text of your note by formatting it: highlight the text in bold or italics, underline it, or format it as a list. A note can be up to 50,000 characters long.
You can also add an image or other file to your note. The following image formats are supported: JPG, JPEG, GIF, BMP, PNG, BM, SVG, ICO. You can add up to 40 images to one note.
To keep an important note at the top of the list, pin it. Choose it and click the

icon in the upper-right corner.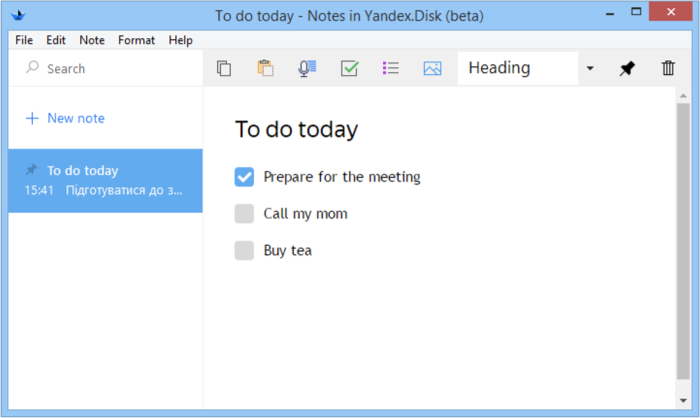 Restriction.
You can create up to 500 notes.
Delete note
If you no longer need a note, you can delete it by clicking the icon

in the upper right corner and confirming the deletion.
Note.
You can't restore deleted notes.
Hot keys
To open Notes, use the shortcuts Ctrl + Alt + B, to create a new note, use Ctrl + Alt + N.
To change the standard shortcuts:
Click the Yandex.Disk icon in the system tray.

Select

Settings

in the menu.

Click the field to the right of the action.

Enter a new keyboard shortcut.
Use Notes on different devices
​You can use Notes on several devices, like your computer and phone, if you are signed in to Yandex.Disk with the same account.​ To find out what platforms support Notes, see Notes in Yandex.Disk.
If you simultaneously edit the same note on different devices, Yandex.Disk will create a copy of the note. Changes made on one device will be saved in the original note, and changes made on the other will be saved in the copy.