Purchasing additional storage
You can buy additional storage on Disk for 1 month or 1 year. Go to the Get more Disk space page, choose the appropriate package size — 10 GB, 100 GB, or 1 TB — and pay for the service using your bank card (Visa or Mastercard).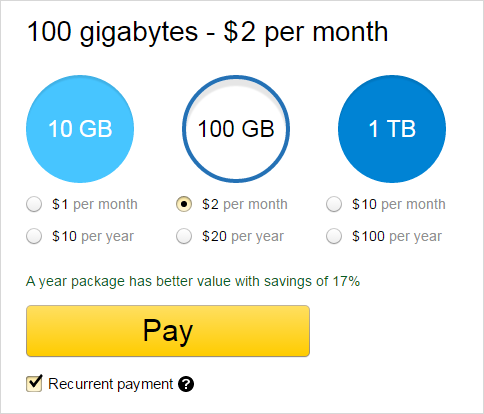 Note.
You can buy any number of the same or different packages.
Extend payment
You can extend payment for a selected package at any time. If the current package is still valid, the new one will be activated after it expires.
To extend payment, go to the Get more Disk space page and click next the link Extend next to the necessary package.
You can set automatic payment extension for the selected package. To do so, select the option Recurring payment when purchasing the service. In the future, the cost of the selected package will be automatically debited from the card attached to your account. You will receive notices about successful or failed payments in your Yandex email account.
Attention.
One-time payments cannot be repeated. If you would like to automatically extend payment, you can purchase the same package and select the option
Recurring payment
when paying for it.
You can cancel automatic payment extension at any time on the Get more Disk space page. To do this, click the link Recurring payment → Cancel recurring payment next to the desired package. In this case, the package will continue until the end of the last payment period.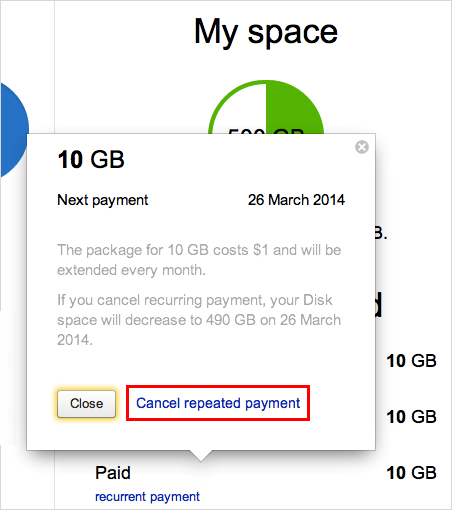 On the Get more Disk space page you can also view the date until which the paid space will be available. Notices about your packages' upcoming expiration will be sent to your Yandex email account.
Package expiration
If your paid package has expired and all available space on Disk is being used, you will not be able to upload new files. All your existing files on Disk are not deleted and will not be blocked; they will still be available to view, download, share, etc.