Log in, log out, and other account actions
Log in to Yandex.Disk
You can log in to your Yandex.Disk from any device with an internet connection. To do this, type disk.yandex.com in the browser address bar, enter your Yandex username and password, and click Enter. If you use or have previously used two-factor authentication, you will need a one-time password generated by the Yandex.Key app to log in.
Yandex.Disk is only available to users with Yandex accounts. If you use a social network profile or phone number to log in to Yandex, change your account type to Yandex account. To do this, on your Yandex.Passport profile page, tap Create username.
Tip.
To quickly access Yandex.Disk, bookmark the Yandex.Disk page or make it your browser's home page.
Note.
If you connect to the internet from someone else's device and don't want the browser to save your username and password, tick
Don't remember me
on the login page. Your session terminates when you close the browser or 2 hours after you stop using Yandex.Disk.
For more information, see Log in to Yandex.
I can't log in to Yandex.Disk
Switch to another account
If you use several Yandex accounts, you can switch between them without entering your username and password: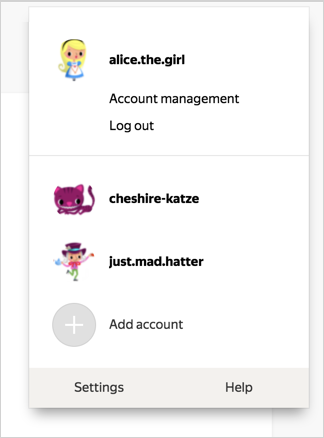 You can choose an account in Yandex.Disk, Yandex.Mail, Yandex.Passport, and other Yandex services that support this feature. This account is considered the primary account: it is used to authorize you in services that don't support switching yet.
You can add up to 15 accounts to the list. To remove an account from the list, switch to that account and follow the Log out link. The current username disappears from the list and you automatically switch to the next one.
To remove multiple accounts from the list, follow Add user, click the

icon in the top-left corner, and click the

icon to the right of the account you want to remove.
Log out of Yandex.Disk
Open the account menu in the top-right corner of the screen and click the Log out button.
If you forgot to log out of Yandex.Disk on someone else's device, open the Yandex.Passport page and click the Log out on all devices link under Sign in and device history.
Attention.
To further access Yandex services, you will need to re-enter your username and password on each device.
How do I change my password or the answer to my security question?
For security reasons, we recommend changing your password every 6 months.
To change your Yandex password, open the account menu in the top-right corner of the screen and click Account management. Then click Change password under Passwords and authorization.
On the new page, enter your current password and then the new password twice for confirmation. Enter the captcha and click Save.
Attention.
After your change your password, all sessions under your username on other computers are automatically terminated.
You can change your security question or answer on the Yandex.Passport page by clicking security question under Passwords and authorization.
Download all files from Disk
Yandex.Disk desktop program

Select all files and folders in the program window.

Right click to open the context menu and select

Create copy on computer

.

Your files will be downloaded to the "Downloads" system folder.

Yandex.Disk page

To download multiple files through your browser:

Select them.

The

Download

button will appear at the top of the screen. Click it.

Files are downloaded in an archive format.

You cannot download multiple folders. Folders can only be downloaded one at a time. However, you can move all your folders and files into one folder and download that single folder.
Move all files to another account
Using a public link

In the first account, move all files and folders to one folder.

In the second account, open this public link and click

Save on Yandex.Disk

.

Using a shared folder

In the first account, move all files and folders to one folder.

In the second account, copy the files from your shared folder to another folder on your Yandex.Disk.
Restore Disk after reinstalling Windows
You can restore your Yandex.Disk data after reinstalling Windows or changing your hard drive, provided that you remember the username and password for your Yandex.Disk account.
Download the program from the

Yandex.Disk

page. You will see instructions on how to run the file once it starts downloading.

When installed, enter your Yandex username and password.
If you forget the password, restore it by following the instructions.
Delete Yandex.Disk account
Yandex.Disk is enabled by default for all Yandex users and can't be disabled. This makes it impossible to delete a Yandex.Disk account. But you can remove all files on Yandex.Disk and stop using it. In this case, you still can access other Yandex services (for example, Yandex.Mail).
If you want to delete the entire Yandex account, read the article Deleting your account. In this case, all of your data across all Yandex services is deleted and you lose access to these services.