File management features
You can edit, delete and move files on your computer if you've installed the ""Yandex.Disk application for Windows or for Mac OS X and the modifications will automatically be synced with our server.
You can also manage your files on the Yandex.Disk site.
All the actions that can be performed with a file or folder are available in the properties panel on the Disk page. To access the properties panel, click on the file or folder icon and it will appear on the right side of the screen.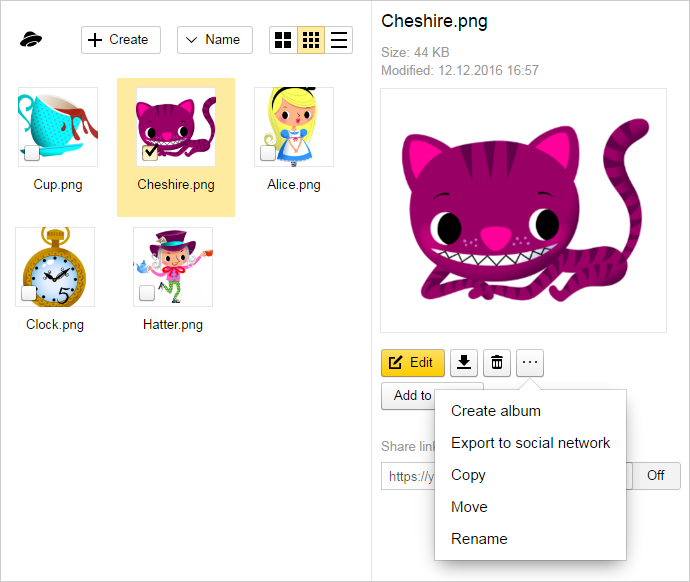 Moving files and folders
Move files and folders is done the same way as on a computer — just drag and drop them to the desired place.
To move an object to another folder, use one of these methods:
Drag it to the appropriate place on the folder tree to the right. The folder tree will appear as soon as you start dragging an object.

To drag an object to a subfolder of the main folder, hold the file over the main folder, and you will see a tree of folders open under the main folder.

Select an object and click → Move on the properties panel. Select where to move the object to and click the Move button.
Deleting files and folders
To delete an object, use one of these methods:
Drag it to

Trash

on the upper panel.

Drag it to the Trash icon in the folder list.

Select an object and click the button on the properties panel.
Group operations
To manage multiple files at once, select them, and all the group operations will be available on the panel to the right. To select several files in a row, click the first and last file in a range while holding down the Shift key. To select several separate files, hold down the Ctrl key for MS Windows or ⌘ for Mac OS X while selecting the files.