Getting started
Installing the program
Download the program from the Yandex.Disk page. You will see instructions on how to run the file once it starts downloading.
The

icon will appear in the Windows system tray when the installation is complete.
If you previously installed the classic program or Yandex.Disk 2.0, you can uninstall the older version after installing the new one.
Logging in
After installation, the Yandex.Disk program prompts you to enter your Yandex username and password. The

icon will display in the system tray until you log in.
If you didn't log in right after installation, double-click the program icon in the tray.
If you still don't have a Yandex account, click on Register to sign up. Then enter your username and password.
Attention.
If you use two-factor authentication or have used it before, you need a
one-time password
generated by the
"Yandex.Key"
mobile app to log in to the Yandex.Disk program.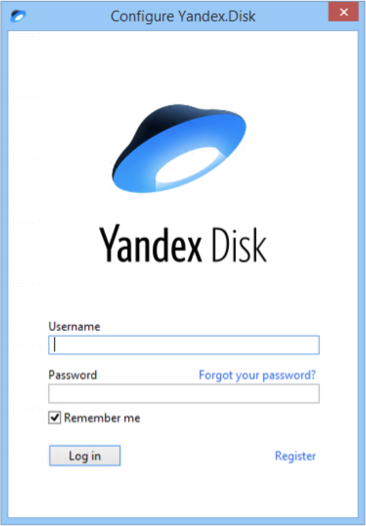 Upgrading to Yandex.Disk 3.0
To upgrade, install the new version over the old one. The new program will replace the old one.
Settings are automatically copied from the classic program and Disk 2.0 to the Yandex.Disk 3.0:
The old Yandex.Disk folder is linked to the new program.

Custom syncing is still available, but in a new way.
What else will change:
Photos and videos aren't automatically uploaded from devices connected to the computer,

but you can turn on unlimited auto-uploads in the Yandex.Disk mobile app or upload files manually.
Note.
To go back to the classic program or to Yandex.Disk 2.0, uninstall the new Yandex.Disk program first.
Reverting to classic Yandex.Disk
To go back to the classic program, uninstall Yandex.Disk 3.0 first. Then download the classic version and install it.