Questions and answers
What is contextual advertising?
Contextual advertising is advertising where the content of the ad depends on the user's interests.
Contextual advertising is selective: an ad will only be displayed to users who want to see it. Users are interested in a certain product or service and you help them by telling them about your offers. Basically, users themselves make the effort to find your ad.
There are two types of contextual advertising: search advertising and content advertising.
Search advertising is served in internet (or website) search results. A user needs to have entered a clear search query in order for an ad to be served on search.
Content advertising is served on ad networks (the Yandex Advertising Network and ad exchanges) if the content of the ad corresponds to the interests of the user. Content advertising is a form of supplemental information that complements the content of the web page the user is viewing. So they are already interested in the information.
Every day Yandex processes tens of millions of search queries and content website pages. These include searches for your product.
What are the advantages of Yandex.Direct ads over other types of advertising?
Traditional advertising in printed media, on the radio, on television, and in online media typically aims to attract the user's attention and distract them from what he was going to read or look at.
Contextual advertising does not distract the user from whatever task they were trying to complete. It does not fight with the content, but rather complements it. In contextual advertising, the user is only served ads that are directly relevant to their current interest. The user has clearly stated what they are trying to find.
Yandex's audience is comparable to the audience of television and radio channels in size.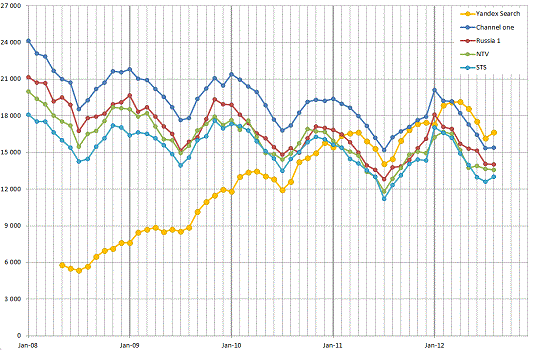 Total daytime television audience vs Yandex audience survey by TNS Gallup Media (Moscow, Jan 2008 - Jan 2014)
With Yandex.Direct, you can:
Set your own maximum CPC for your ads

Fine-tune your ads (for example, specify the time and regions for impressions)

View ad campaign statistics at any time for any ad, keyword, or day.
How much does it cost to place an ad with Yandex.Direct?
Yandex.Direct uses an auction system to manage ad impressions. There is not a set cost for clicks or impressions in Yandex.Direct. Cost is based on the results of bidding between advertisers. Advertisers set bids and limits in the Yandex.Direct interface. The auction takes place in realtime while the user loads the search results page or a page containing ad blocks from the Yandex Advertising Network or ad exchanges. More information about how the auction works.
The minimum bid for contextual advertising is 0.3 rubles excluding VAT. The minimum price limit for one thousand impressions of display ads is 5 rubles excluding VAT. The minimum order is 1,000 rubles excluding VAT.
Where will my ads appear?
Ads placed through Yandex.Direct can appear:
For more details on the ad display terms and conditions, please refer to the ad display rules.
How do I know which search terms will result in an ad impression?
Yandex.Direct ads are displayed anytime a user enters a search term that contains one of the keywords you set in its entirety. For example, you selected the keyword buy a car. Your ad will display whenever a user enters buy a cheap car, but not when they search for cheap car, because the latter doesn't contain the word buy, and that word is part of the keyword you entered.
When determining whether to display an ad or not, the system takes into account all forms of the keyword that are the same part of speech. This is very important with Russian keywords because the same word can have multiple different endings depending on the grammatical case. For example, for the keyword автомобиль (car) (as a noun) the ad will also display if a user enters the following searches despite the various endings: где купить автомобиль (where can I buy a car?), недорогие автомобили (cheap cars), ремонт автомобиля (fix car).
Therefore, your keywords should cover different parts of speech to ensure proper coverage of your ads. Let's suppose again that your keyword list contains the word автомобиль (car). Add the adjectival form of this word, автомобильный, to make sure that your ads will still be served when users enter a different construction, such as автомобильная выставка (car show), or автомобильные обзоры (car reviews)
Yandex.Direct can also display ads for searches that contain synonyms of your keyword. For example, for the keyword купить автомобиль (buy automobile), the ad can display when someone searches for покупка машины (buy car).
Because people use Yandex to look for a very wide range of products and services, you can make a list of keywords to advertise any type of business. Just think about what queries potential clients might use to search for you, and place ads using those particular keywords. You can also use the suggestions provided by the Wordstat keyword statistics service to see how many people per month search for phrases that include a particular keyword, and view what synonyms they use.
How do I put together an effective ad?
Contextual advertising is, first and foremost, about giving the right answer to a specific user's query. That is why the main recommendation for advertising material is to be as specific as possible.
Write clear titles. The title of your ad should clearly offer exactly what the user is looking for. If the user searched for fridge repair, it's best to show the user immediately that this is the service you offer.

Include keywords in the ad text. If your ad has the words from a user's search, these words will be highlighted in bold in the text of your ad on the search results page. This will increase response to your ad. Your ads can also include synonyms of words that users include in their searches.

Extend your ad information with pricing and promotion. If the user already knows the price, a click on your ad will mean that they are interested in buying the product at this price. If your pricing is not acceptable, they will not click on your ad, and you will save money.

Select the right keywords. For example, it is not a good idea to use just the general word rent for displaying an ad for apartment rentals. People who include the word rent in their search queries are often looking for a standard rental contract, or are interested in renting office space, a car, a summer cottage, storage space, a store, etc.

Also, don't forget about users who add the area to their search. For example, a search for apartment in Moscow may come from a user who wants to buy an apartment in Moscow (but doesn't necessarily live in Moscow).

Please note that the ad will be displayed every time a search query contains the full keyword you selected. For example, if you choose the word combination Honda Civic, your ad will be displayed for searches for Honda Civic to sell, Honda Civic car dealer, green Honda Civic, where to buy a new Honda Civic, and so on.

Compose several versions of your ad for each group of similar keywords. This will inevitably improve performance of your advertising campaign.

Specify the link to the exact page with information about products or services shown in the ad. Users will leave your site if they can't find what they're looking for immediately. Make sure that the web page your visitors will be directed to has information about the advertised products and services.

Correctly specify the regional areas for displaying your ads. This is called geotargeting. But you should be aware that incorrect geotargeting might exclude the audience that you want. For example, if you sell apartments in Moscow, it is not a good idea to show your ad to residents of Moscow only. People in other cities also buy apartments in Moscow.
Please follow our Advertising Requirements.
Why are my ads not being served?
There are several reasons why your ads might not get served:
You haven't paid for your order yet — your ads will start being served after you pay for your advertising campaign.

the information cached in the browser is outdated: please press Ctrl+F5 to update the information

limit on impressions by hours of the day and days of the week (time targeting) is enabled and the current time/day does not match the targeted impression time of the ad campaign

limit on impressions by regions (geotargeting) is enabled and the IP address of your computer is missing in our database or belongs to a different geographic region. In this case, you cannot see your ad, although other users can. You can send your IP address using the feedback form so that we can determine the exact cause.

Autobudget temporarily stopped displaying your ads, if autobudget is enabled.

The ad has not been activated – it may take around 40 minutes (or 3 hours during peak times) for an ad to appear in the search results after a campaign has been launched.

The ad doesn't match your interests

: you were not included in the target audience for your ad based on

behavioral factors

. The history of your previous searches and clicks on ads shows that the ad is irrelevant to you. You can't see it, but it is displayed to other users. Clear cookies, and check the results on another device, in another browser, or on another computer.

Impressions are restricted using negative keywords and operators

and your query uses a form of a word that you excluded in settings. For example, you used the operator

+

to include the preposition in the keyword

apartments +in Moscow

, but you searched for the ad using the query

apartments Moscow buy

. Check the

negative keywords

and

operators

on the ad or campaign editing page.

Impressions are restricted for a specific audience

and you fall into the category of users subject to

decreasing bid adjustments

or completely prohibited for ad serving.
Does Yandex.Direct offer any protection against fake ad clicks?
Yandex.Direct is very serious about the safety of the ads it serves. That is why to prevent invalid (fraudulent or erratic) clicks, it uses multistep technology, which has both automatic and manual methods of filtering.
Every click on an ad in real time is analyzed by automatic filters, that consider more than twenty parameters with varying factors of influence, and recalculate all parameters for each new click. Those clicks, which Yandex.Direct identifies as invalid, are automatically filtered out and are not considered in statistical reports. Those clicks, which Yandex.Direct identifies as invalid, are automatically filtered out and are not considered in statistical reports. Clicks identified as invalid are not included in statistics, and advertisers are not charged for them. To see the number of uncounted clicks, please go to the Statistics by day and General statistics reports. These figures may change over time if a portion of clicks are considered invalid during future filtrations.
Moreover, Yandex.Direct uses methods of comprehensive click monitoring, which both filter out fraudulent clicks and improve automatic protection system.
All these actions of the system and of our experts are directed at preventing fraudulent clicks and impressions.
If you think that fraudulent clicks have ended up in your ad campaign's statistics, or that the data in your reports looks suspicious, then please get in touch. You must enter the number of your ad, and the period of time in which you think there were false clicks on your ad. If your suspicions are confirmed, Yandex will restore those funds to your advertising campaign ASAP.
I don't have time to figure out all these details, is there anyone that can help me?
You can place your Yandex.Direct ads by yourself or get help from our experts.
If you manage large ad campaigns with Yandex.Direct, you can get assistance from a Yandex personal manager. The manager will consult you on the best placement strategy and ad settings for your aims and will help you maximize the performance of your ad campaign.
Any advertiser spending a certain amount on Yandex.Direct ads every month is entitled to a personal manager. You can view the minimum budget for your region on the application form page.
You can also contact our partners. Yandex cooperates with numerous advertising agencies around the world.
You can also send your question anytime to the Customer Service by email or phone
+7 (495) 780-65-20 (support service is available from 10:00 to 19:00 UTC+3)
8 800 333-9639, ext. 2482 (support service, freephone from Russian regions)