Genres and subjects
Place ads on pages and in videos of appropriate categories. The audience for the campaign is selected on the sites of the specified genres and subjects. If you understand what content your potential customers are viewing or what topics they are interested in, display the ads on resources with subjects related to your product. For example, place an ad for your new sauce inside a cooking video or offer skiing equipment to people who are on a site about sports and active holidays.
How to configure
You can enable impressions by genre and subject when creating an ad group. Under Impression criteria, click Genres and subjects and select relevant targetings.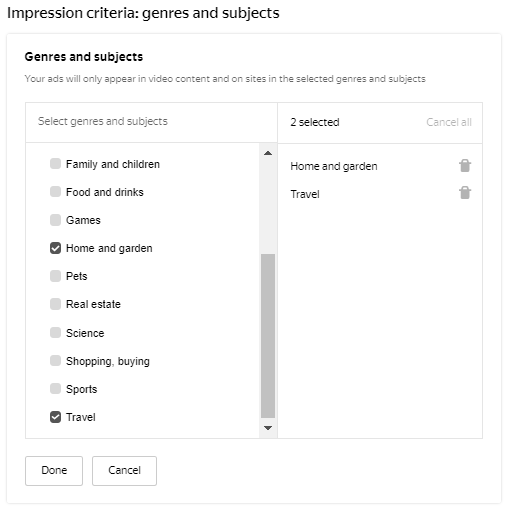 You can't use genres and subjects together with other retargeting criteria.
Reach forecast
At the audience selection step, you will see the estimated reach. This will help you evaluate the weekly number of users that could potentially see ads from a particular group. The estimate shows two values:
On the left, you'll see the number of users that could potentially see banners from the group. Selected content subjects, settings of uploaded banners, display regions set for the ad group, and

ad inventory adjustments

are taken into account.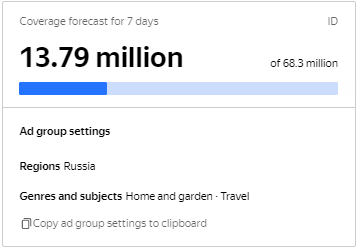 How to evaluate performance
To evaluate the campaign results:
Create multiple ad groups.

Add genres and subjects for each group.
Use the
Genres and subjects
cross-section in the
Report wizard
to get impression statistics for each group. Pages and videos used for ad placement can belong to multiple subjects or genres at the same time. This means that impressions are counted for each subject or genre. But the
Total
row in the report includes each impression only once.
Have questions?
Attention.
Our customer service department can only help you with the campaigns created under the same username you use to contact us. You can see your current login in the upper-right corner of the screen. Our team can access your data only when processing your request.