Retargeting lists
Retargeting lists are a way to serve your ads exclusively to interested users. For example, you can serve them to people who visited your site already or put something in their basket. Yandex.Metrica and Yandex.Audience can help you select a user group.
Ads based on retargeting lists will only be served on ad networks (the Yandex Advertising Network and ad exchanges).
Restriction.
Ads that concern personal topics (such as health, dating, gifts, etc.) will not be served based on targeting lists.
Retargeting lists are a combination of goals and segments from Yandex.Metrica and Yandex.Audience that you can use to define your target audience. You must set up these services in order to create retargeting lists.
Yandex.Metrica

Enter goals or segments in Yandex.Metrica. Goals relate to the behavior of a specific user on your site. For example, a goal might be for a user to add a discounted product to their basket or start a new order. Segments describe characteristics of a user during a specific session. For example, they describe how the user got to the site (from a social network, from Yandex search), what device they used to view the site (a mobile phone, desktop), and their gender and age.

How to set a goal that users view pages displaying discounts

You can create a segment for traffic from social networks

More about Yandex.Metrica.

Yandex.Audience

Decide who you want to show your ad to, and generate a matching Yandex.Audience segment. For example, you can create a segment based on your customers or visitors to certain locations, or you can find new potential customers using Yandex technologies.

More about Yandex.Audience.
How to create a retargeting list
You can add a retargeting list to an ad on the ad creation or ad editing page. Either select one from the list of those created earlier or create a new one.
To create a new retargeting list, go to Retargeting list → Add. In the window that opens, click + add set.
A retargeting list can contain one or more rule sets (no more than 50) joined by the "AND" operator. For each rule set, you can use Yandex.Metrica goals or segments, Yandex.Audience segments, or a combination of the two (without exceeding 250). Keep in mind that the more criteria there are in your targeting list, the lower your audience coverage.
You can also request access to existing Yandex.Metrica goals or segments that are linked to another Yandex.Metrica counter and then use them to set up a retargeting list for your campaign. To do this, go to My campaigns → Retargeting lists → Get access to Yandex.Metrica goals.
The system lets you choose various criteria for rule fulfillment — All fulfilled, At least one fulfilled or None fulfilled. Only Yandex.Metrica goals can be used in the rule set with the ad serving criteria None fulfilled.
Restriction.
You can only use retargeting list in which all the rule sets are marked None fulfilled for bid adjustments.
For each Yandex.Metrica goal or segment, set a period between 1 and 90 days. Ads will be served to the audience that fulfills the specified criteria for this period. Yandex.Audience segments are automatically updated regularly, so they contain current user data.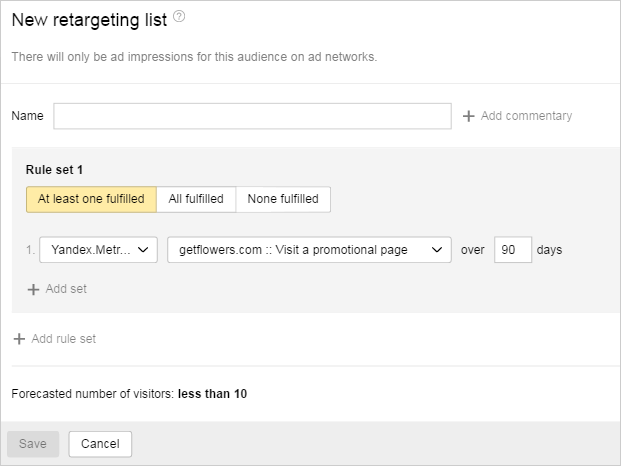 All created criteria can be viewed on My campaigns → Retargeting lists. A retargeting list can be added to any ad group in one or more campaigns.
Note.
You can create a maximum of 2000 retargeting lists per account. You can add up to 50 retargeting lists to an ad group.
You can edit a previously created target audience. To do this, click the name of the target audience and make changes on the My campaigns → Target audience page. You can also create a new target audience keeping the changes made by pressing Save as new.
Tips on configuration
You can set a specific time interval during which a goal should be met or a user should end up in a Yandex.Metrica segment.
Example of setting time period

For example, you must set a period of between 7 and 14 days ago. You need to create two groups to do this. Add a goal with a period of 14 days and the At least one fulfilled criteria to the first set. For the second set, add a period of 7 days and the None fulfilled criteria.
If you combine several goals in Yandex.Metrica, only users who complete all these goals in one session will end up in the sample.
Example of Yandex.Metrica goal combination

For example, if a segment was created in Yandex.Metrica with the two completed goals "Visit a promotional page" and "Order a discounted item", the selection will include only users who have both visited a promo offer page and ordered a discounted item in the same session.

To include those visitors who have fulfilled both criteria regardless of the time period, create the following two separate criteria in Yandex.Metrica: "Visit a promotional page" and "Order a discounted item". Then combine them on Yandex.Direct.
You can't create goals based on negative criteria in Yandex.Metrica. Instead, create a goal with a positive criteria and add a negative on Yandex.Direct.
Example of negative criteria

For example, you can't create a goal like "Item not purchased". Instead, create a goal with the positive criteria "Purchase made" and then add a negative state to it: "Purchase made" — None fulfilled.
By combining Yandex.Audience segments with Yandex.Metrica goals and segments, you can create sophisticated criteria for retargeting lists.
Example of Yandex.Audience segments and Yandex.Metrica goals

For example, you can serve ads for discounts to existing customers who in the last 30 days have not made a purchase on your site. To do this, create a segment of existing customers based on data from your CRM. Enter the segment and the corresponding Yandex.Metrica goal in the target audience section.
Setting bids
Retargeting lists allow you to find users that may be considered potential customers for you (for example, they have already been on your site). By increasing bids for ads with retargeting lists, you will be able to reach more users interested in your product or service and serve them more relevant ads. You can set the CPC for each retargeting list if you use a strategy with manual bid management.
You can also use bid adjustments to raise or lower the CPC when serving ads. For example, users interested in expensive goods or services can be regarded as a more valuable audience. Therefore it is justifiable to set higher bids for such a group to get better quality sites and display positions.
More information about bid adjustments.
Note.
It is possible for one user to satisfy the conditions for the display of several different ads. Such a user will likely be shown an ad with a higher bid, meaning that it is intended for a more valuable target group (from the point of view of the advertiser).