Campaigns with fixed CPM
You can use the new Yandex.Direct interface to create and manage ad campaigns with a fixed CPM. You can place a banner on the desktop and mobile versions of the Yandex Home page and on a new tab page in the browser.
Banner on the Yandex Home page
Video
With video ads in Yandex.Direct, you can reach a multi-million audience in the Yandex Video Network, including people who never watch TV. Video ads can help you improve your brand perception and awareness, generate interest in your brand, expand your reach, and increase sales.
Upload videos in MP4, WebM, MOV, QT, FLV, or AVI format with a length of 6 to 60 seconds.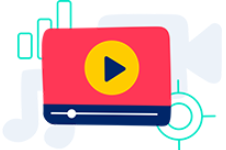 Audio ads
Audio clips are played between music tracks on Yandex.Radio and Yandex Music in desktop and mobile versions for users who don't have a subscription, and on Yandex partner sites.
Upload an audio file in MP3, WAV, or M4A format with a duration from 5 to 30 seconds.