Video extensions
Video extensions are currently in beta testing.
Video extensions turn your Text & Image Ads into short, ten second-long video clips. They are generated automatically and use the title, text, image and link from your ad. You can replace a generated video extension with another that has its own video background and audio. As with all Yandex.Direct ads, you only pay for clicks.
Ads with video extensions are served in ad networks (in InPage and InStream blocks). Users can choose to skip the video after three seconds.
Bids for clicks on ads should not be less than the minimum value.
How to add a video extension
Video extensions are automatically added to both new and already created Text & Image Ads with images in "Text & Image Ad" campaigns. Your ad's title, text, image and link will be used when creating a video extension.
If, according to legislation and Yandex policy, an automatically-generated video extension must contain legal information, then this automatically-generated video extension will not be served. Instead, you will need to create your own video extension and add the required legal information to it. Learn more about legal information in video extensions.
Video extensions can be created in the Creative Ad Builder. To do this, go to the Ad extensions section on the ad editing page, click Video → Add → Build from a template.

You can select the background videoclip for an ad from our video library. It's possible that several advertisers may choose the same video background. That's why Yandex will not serve a customer an ad with a video background that they already saw more than once every 30 days. You can also use your own background video. According to Yandex data, this can increase the conversion rate of the video extension by up to 38%.
Ad campaigns with video extensions must have ad network impressions enabled in their strategy settings. You can serve ads according to keywords and retargeting lists. The theme of the background video clip is not taken into account.
An ad can be served both with and without a video extension. You cannot disable impressions for ads that display without video extensions.
You can add video extensions to multiple ads simultaneously by using XLS/XLSX files, make mass changes using multi-editing, or use Direct Commader.
If you delete a video extension you created or the video doesn't pass moderation, an automatically generated video extension will display in its place. It is not possible to completely delete a video extension.
Bid adjustments
You can set bid adjustments to raise or lower the bid when serving video extensions. The minimum bid amount when factoring in the coefficient is 50% less than the original bid. The maximum bid is equal to the original bid plus 1200%.
Bid adjustments can be set in the campaign settings or on the ad group editing page. Learn more about bid adjustments.
Impression statistics
Statistical analysis can help you evaluate the performance of ads with video extensions. You can use the Report Wizard to make these evaluations. For example, you can compare the productivity of video extension ads with image ads via the Formats cross-section.
An ad impression with a video extension is registered after the first frame of a video displays. A click is registered when the title or button is clicked. If you want to see ads where users clicked on video extensions, go to Cross sections, and choose Ad №, Click position. In Columns, select Clicks. Then filter by Formats → Video extension and Click position → title, button.
Group campaign management
You can add or edit video extensions for several campaigns at once using mass campaign management tools. On the "My campaigns" page, check the boxes next to the names of the campaigns you want to change. A list of possible options will appear at the bottom of the page. Choose Change video extension and click Apply.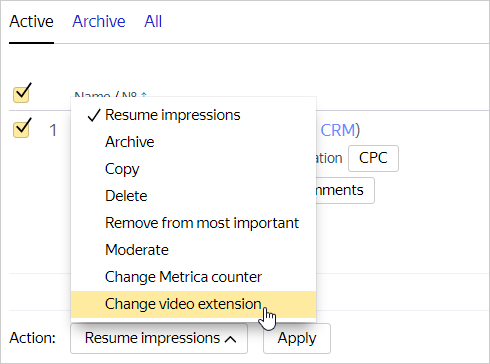 If you don't want to search for the video extension in the list, enter its ID in the search bar. You can find the ID in the Creative Ad Builder. Simply go to the ad group editing page, find the Ad extensions section, and click Video → Add → Select from previously added and click

→ Parameters next to the creative you want.