Target audience impressions
You can serve your ads to a pre-selected audience or an audience that has visited the site and already completed certain actions. You can show users different ads depending on their behavior while visiting the site. These ads will only be displayed in the ad networks (Yandex Advertising Network and ad exchanges).
Target audience settings can help you solve different tasks in advance, for example:
Increase your conversion rate among customers who visited your site but didn't take you up on your advertised offer by showing them ads that will prompt them to act.

Increase the number of product reviews and recommendations. It makes sense to recommend additional products or services to those who successfully completed purchases before, as well as motivate them to share site information with their friends.

Increase the number of contacts that users make with a given brand to strengthen their associations with it. For those who have visited your store or website, you can show ads to inform them of new products or promo offers.

Attract new users to your store by showing ads to people who are frequently in the area.

Find potential new customers using location data. For example, you could show ads for travel services or luggage to people who have been in one of the airports in the last 3 months.
Target audiences can noticeably increase your ad performance. According to our data, the conversion rate increases by an average of 35% among those visiting a site for the second or subsequent times.
Restriction.
Target audience settings aren't used for ads of a personal nature (such as medicine, dating, gifts and suprises, and so on).
How does target audience work?
Target audience provides you with a combination of goals and segments from Yandex.Metrica, and segments from Yandex.Audience. You can use them to create a category of potential clients that you are interested in.
Goals and segments in Yandex.Metrica

Install a Yandex.Metrica counter on each page of your site. Configure goals or create segments which you want to use for serving ads. Please note: you can only use simple (not multi-step) goals for your target audience criteria.

Goals describe the behavior of each user on your site, for example:

opening a page with a promotion
adding a product with a discount to the basket
starting a new order

You can set a goal of a user viewing pages that show discounts

Segments characterize each user and their session, such as:

from which resource a user was redirected to the site (social networks, Yandex search, etc.)

which device a user used for viewing the site (mobile phone, desktop, etc.) including its operating system and web browser

a user's social and demographic parameters, like age and gender

You can create a segment for traffic from social networks

Traffic that satisfies configured goals or segments is automatically combined into a group to create a target audience. All you need to do is to link these groups to the relevant ads in the Yandex.Direct interface.

Yandex.Audience segments

Decide who you want to show your ad to, and create a Yandex.Audience segment that describes these people. For example, your segment can include people who visit specific places or your CRM clients.

If you already have Yandex.Audience segments, you can use Look-alike technology to find new potential customers. For example, if you have a segment of regular customers, you can create a new segment with the characteristics of people who show similar interests and online behavior.

To use segments for displaying ads, select them in the audience targets for your ads. Be careful when making location settings, since the people in your segments can change locations unexpectedly. Even if they are currently located in the city you are targeting, they might be in a different country tomorrow. Select the regions where you want to display advertising in the settings for your ads and campaigns.

For more information about working with segments, read the Yandex.Audience help section.
By using different goals and segments, you can more accurately identify the audience you are interested in and create a personalized advertising message for them.
Note.
Increasing the number of ad impressions criteria will narrow your audience coverage.
Impression statistics for a target audience are available in the By phrase report.
How to create a target audience
You can add a target audience to an ad on the ad creation or ad editing page. You can select one from the list of previously created target audiences or create a new one.
To create a new target audience, select Target audience → Add. In the window that opens, click + add set.
A target audience can contain one or more rule sets (no more than 50) joined by the "AND" operator. Each rule set can use Yandex.Metrica goals or segments, Yandex.Audience segments, or a combination of the two (no more than 250).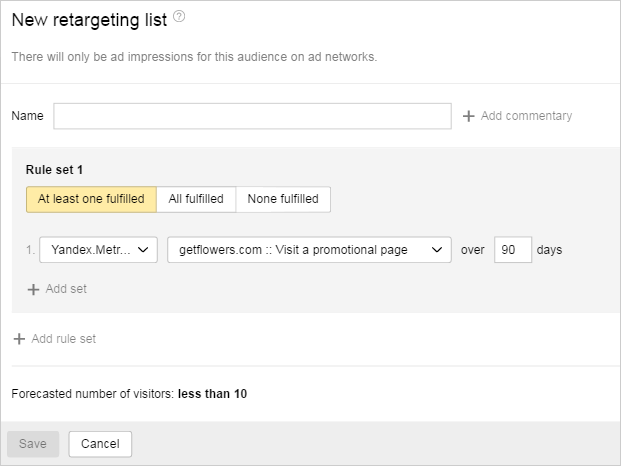 The system provides multiple modes for ad displaying criteria — All fulfilled, At least one fulfilled or None fulfilled. Only Yandex.Metrica goals can be used in the rule set with the ad serving criteria None fulfilled.
Restriction.
A target audience in which all the rule sets have the None fulfilled criteria can only be used for bid adjustments.
For each Yandex.Metrica goal or segment, set a period from 1 to 90 days. Ads will be served to the audience that fulfills the specified criteria for this period. A specific time interval can be set for a goal conversion or a segment, for example, a period from 7 to 14 days ago. You need to create two groups to do this. Add a goal with a period of 14 days and the At least one fulfilled criteria to the first set. For the second set, add a period of 7 days and the None fulfilled criteria. You can create a maximum of 2000 retargeting lists per account. You can add up to 50 retargeting lists to an ad group.
All created criteria can be viewed on My campaigns → Retargeting lists. A retargeting list can be added to any ad group in one or more campaigns. On the ad creation or ad editing page, choose Target audience → Add.
You can edit a previously created target audience. To do this, click the name of the target audience and make changes on the My campaigns → Target audience page. You can also create a new target audience keeping the changes made by pressing Save as new.
If there are no goals or segments available for your username, create them in Yandex.Metrica or in Yandex.Audience. You can also request access to already existing Yandex.Metrica goals or segments on another Yandex.Metrica counter. To do this, go to My campaigns → Target audience → Get access to Yandex.Metrica goals.
Features of configuring retargeting lists by Yandex.Metrica goals
If you combine several goals in Yandex.Metrica, only users who complete all these goals in one session will end up in the sample. For example, if a segment was created in Yandex.Metrica with the two completed goals "Visit a promotional page" and "Order an item with a discount", the selection will include only users who have both visited a promo offer page and ordered an item with a discount in the same session.
To include those visitors who have fulfilled both criteria independent from the time period, create the following two separate criteria in Yandex.Metrica: "Visit a promotional page" and "Order an item with a discount" and then combine them in Yandex.Direct.
You can't create goals with negative criteria in Yandex.Metrica, such as "Item not purchased". Instead, create a new goal with the positive criteria "Purchase made" and add the negative state in Yandex.Direct: "Purchase made" — None fulfilled.

Setting bids
Retargeting lists allow you to find users that may be considered potential customers for you (for example, they have already been on your site). By increasing bids for ads with retargeting lists, you will be able to reach more users interested in your product or service and serve them more relevant ads. You can set the CPC for each retargeting list if you use a strategy with manual bid management.
Therefore, it is important to take into account the value of attracting users from different target groups. For example, users interested in expensive goods or services can be regarded as a more valuable audience. Therefore it is justifiable to set higher bids for such a group to get better quality sites and display positions.
Note.
It is possible for one user to satisfy the conditions for the display of several different ads. Such a user will likely be shown an ad with a higher bid, meaning that it is intended for a more valuable target group (from the point of view of the advertiser).