Contact info in ads
You can use contact info in your ads in order to stand out from the competition and help potential customers reach your company faster. In the contacts section, you can link your company from Yandex Business or fill out a vCard.
Benefits of using contact info in ads
Your ad is more noticeable

After you fill out the contact information for your ad on search, additional elements are added that increase clicks:

The

"Contact information"

link, which redirects a user to the contacts page.

The metro station for businesses in Moscow, St. Petersburg, and Kiev.

Your business hours and phone number.

When serving ads in ad networks, an "Address and phone number" link leading to a vCard or an address from a vCard can be added automatically.

If you link a company from Yandex Business, your ads on Yandex Maps can display photos of your business, its rating, and reviews about it.

No additional costs involved

You pay for a click on your company's card or vCard the same way as for an ad click. Even if a user visits your website while viewing a company or vCard, you still pay for only one click.

Mobile users are more likely to call

When people search for items or services from a mobile device, they often want to place an order there and then. With contact information, you can take advantage of this "hot" demand. The ad shows your phone number from the company card or vCard, and the user can just click to dial your number.

Your ad looks more trustworthy

When someone immediately sees the maximum amount of useful information about a company's location and office hours, this has a positive effect on that person's trust in your company. Users are more likely to go with a company that displays the maximum amount of information about itself and, conversely, will be reluctant to trust an organization which does not reveal much about itself.
Adding or editing contact information
You can link a company to an ad on the ad creation or editing page:
, click

Enter a name and select a company from the list.

Example

If your company isn't in Yandex Business, you can quickly add it and link it to your ad or campaign right away. To do this, click

Create business

and fill out the form.

By default, the ad shows the phone number from your company card in Yandex Business. If you confirmed your rights for the company, you can change its phone number. This can help you target your ads better by using a

dedicated phone number

for each advertised offer.
To use the company's data in all new ads for your campaign, link the company on the campaign setup page ( ).
Where company data is shown

By default, the company linked to ads is shown on Yandex Maps (in ads) and as contact information (in search results).

If you disable this option, the selected company is only shown on Yandex Maps. In other cases, search results will use the company that was automatically linked in the campaign settings (see the option Display data from Yandex Business).

If the company is deleted, the vCard is shown (if it's filled out).

Group campaign management

Image ads. On the Campaigns page, select the desired campaigns and go to their ads. Select several ads or the entire list. Click Actions and select Companies from Yandex Business.

To add or replace a company in multiple ads, click Add a company in the window that opens. If you want to unlink a company, click Remove. After making the necessary changes, click Apply.

The company will only be added to Text & Image ads. If other types of ads were selected, the company is not added to them.

Statistics on ads with a business

Every business in Yandex Business has a Yandex Metrica technical tag. When you add a business to an ad, the tag is automatically linked to the ad campaign. The system itself checks the relevance of the tag: if the company is no longer used in any ad, the tag is deleted. You can't delete the technical tag yourself.

To view statistics on clicks on a phone number or call button, add the Click position cross-section to Report Wizard and select phone. The report shows clicks on the phone in ads in search results.

You can also use the goal "Clicks on the "Call" button" (for example, in priority goals or strategies). Then the statistics will include clicks on the phone number both in the search result ads and company card.

Only business owners or representatives can view or use technical tag statistics and goals in an advertising campaign. Learn more about how to confirm your rights to a business.
On the ad creation or editing page, under vCard, you can fill out a vCard for the ad.
| | |
| --- | --- |
| | Video tutorial.vCard |
| | |
| --- | --- |
| | Video tutorial.vCard |
You can create a single vCard for all the ads in your campaigns on the campaign setup page (Advanced settings → vCard.
You can use the vCard Wizard for vCard group management. You can use this tool to:
Add the same vCard to several ads, create a new one, or select one from existing templates in the campaign or account.

Edit your vCard for all corresponding ads at once.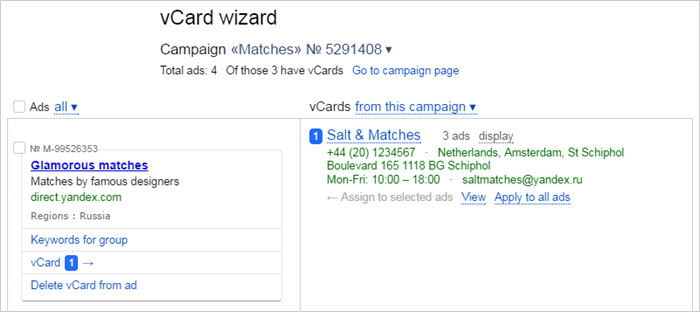 To go to the vCard Wizard, click the vCards link in the upper-left corner of the ad campaign page
Tips for filling out a vCard

Make sure you enter the correct phone number and working hours so that potential customers can contact you during business hours.

Use the additional

More about the product/service

text field to add a detailed description of your offer's advantages.

In accordance with the Russian Federal Law

"On Advertising"

, for remote sales (i.e., without retail stores), ads placed by legal entities must specify the company name, address and OGRN registration number, while individual entrepreneurs must specify their OGRNIP registration number and full name. It is convenient to include this information in your vCard.
Have questions?
Attention.
Our customer service department can only help you with the campaigns created under the same username you use to contact us. You can see your current login in the upper-right corner of the screen. Our team can access your data only when processing your request.