vCard
The vCard is a simple tool for boosting the performance of your Yandex.Direct ads. It not only makes the ad stand out from the competition, but also helps potential customers reach your company faster. Our research shows that an ad with a vCard helps to attract, on average, up to 12% more visitors to the advertiser's website.
| | |
| --- | --- |
| | Tutorial video. vCard |
| | |
| --- | --- |
| | Tutorial video. vCard |
What's useful about a vCard
It makes your ad noticeable

After filling out the contact information for your ad on search, additional elements will be added to it, which will help increase its clickability:

a

"Contact information"

link which redirects a user to a page containing contact information

a metro station — for companies from Moscow, St. Petersburg, and Kiev

office hours and telephone number of your company

When serving ads in ad networks, an "Address and phone number" link leading to a vCard or an address from a vCard can be added automatically.

No additional cost required

One of the main advantages of a vCard is that for all of its effectiveness, it does not require additional expenditures on advertising. A click on a vCard is paid for the same way as a click on an ad.

Even if while viewing a vCard a user went to your site, you still pay for only one click.

Encourages calls from mobile users

Often, when people search for goods or services from a mobile device, they want to place an order there and then. With the help of a vCard, you can handle this "hot" demand effectively: your phone number is displayed in the ad from the vCard, and all the user has to do is tap it to dial your number.

Offers more space for promo text

In a vCard there is an extra text field where you can elaborate on the advantages of your product or service, how good the delivery is, or add any other information which does not fit into your main ad text.

Increases trust

When someone immediately sees the maximum amount of useful information about a company's location and office hours, this has a positive effect on that person's trust in your company. Users are more likely to go with a company that displays the maximum amount of information about itself and, conversely, will treat an organization which does not reveal much about itself with less trust.
Creating or editing vCards
You may fill in a vCard for one ad while creating or editing the ad in the Address and phone number section.
You can create a single vCard for all ads in a campaign in the vCard section when editing the campaign settings.
You can use the vCard Wizard for vCard group management. You can use this tool to:
Add the same vCard to several ads, create a new one, or select one from existing templates in the campaign or account.

Edit your vCard for all corresponding ads at once.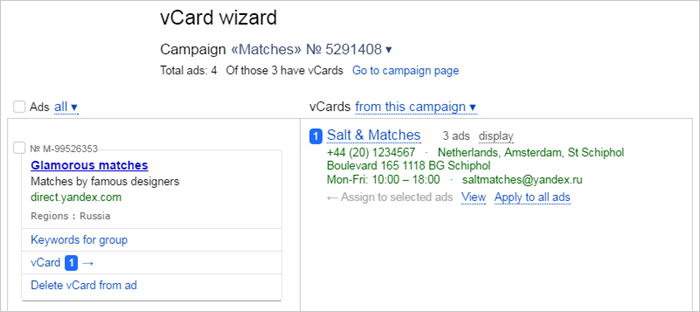 To go to the vCard Wizard, click the vCards link in the upper left-hand corner of the ad campaign page.
Vcard tips
Make sure you enter the correct phone number and working hours so that potential customers can contact you during the working hours.

Specify the address of your organization by

manually setting

a point on the map if your location is not easy to find (e.g., a car service under a bridge or a cafe in a park).

Use the additional

More about the product/service

text field to add a detailed description of your offer's advantages.

In accordance with the Russian Federal Law

"On Advertising"

, to carry out remote sales (i.e., without retail stores), ads placed by legal entities must specify their company name, address and OGRN registration number, while individual entrepreneurs must specify their OGRNIP registration number and full name. It is convenient to include this information in your vCard.