Carousel
The image carousel helps you show different aspects about a product or service in your ad, tell users how you produce or develop them, and tell more about their advantages or features. You can add between 2 and 10 images to your ad in the specified order.
The image carousel is shown in Smart Design-enabled YAN ads, as well as on Yandex services.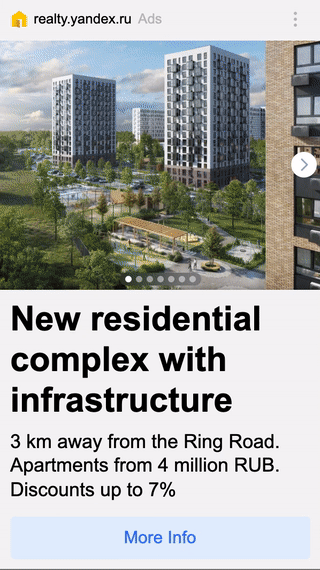 How to set up the carousel
You can add the carousel when you create or edit ads.
Under Carousel, click Add slide and upload the desired images or drag and drop relevant files to the block.

If you add the carousel to your ad, an image is required.
Technical requirements for slides:
Size — at least 450 pixels on each side

Maximum file size — 10 MB.

Format — JPG, PNG or GIF (only the first frame will be used).
To change the slide order, click and hold

next to the slide and drag it. The images in the carousel will show up in your preset order.
You can crop each slide in the carousel and set up smart centers for them. To preview the carousel, click Preview.
All images must meet the design requirements. The carousel can show up in an ad if all its slides have passed moderation.
You can add the carousel to multiple ads at once using bulk updates in ads or bulk actions with ads.
Have questions?
Attention.
Our customer service department can only help you with the campaigns created under the same username you use to contact us. You can see your current login in the upper-right corner of the screen. Our team can access your data only when processing your request.