Callouts
Callouts are short texts where you can describe the advantages or features of your product or service. These texts are displayed in an additional line beneath an ad.
| | |
| --- | --- |
| | Video tutorial.Callouts: describe the benefits of your offer |
| | |
| --- | --- |
| | Video tutorial.Callouts: describe the benefits of your offer |

Callouts in ads can be served on both search and the ad networks (YAN and ad exchanges).
Advantages of callouts
Provide additional information

In callouts you can list the advantages of your products or services, indicate special offers, or describe the benefits of working with you.

Increase ad CTR

According to Yandex research, callouts increase ad CTR by 3%.

Simple to set up

Think up short texts to add to your ads as callouts. The same callout can be used in different ads and campaigns.
How to add callouts
Callouts can be added when creating or editing ads. You can do this on the ad editing page under Callouts and select from the previously used callouts or add a new callout. Callouts must meet the moderation requirements. If a callout doesn't follow the guidelines, it will be rejected during moderation and it won't be served with the ad.
The length of a callout should not be more than 25 characters including spaces. The total length of the callout for an ad mustn't exceed 132 characters for desktop impressions and 66 characters for mobile impressions. Callouts can be displayed in any order.
Yandex recommends that you keep callouts short and clear. Once created, you can add a callout to any ad in one or several campaigns.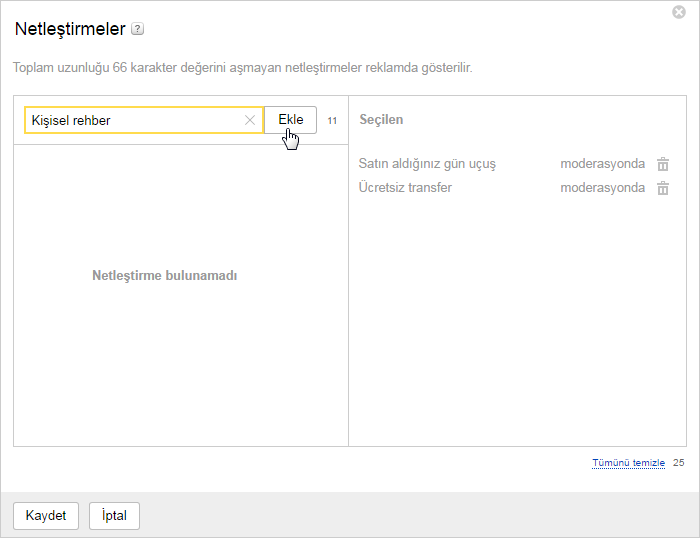 Callouts cannot be edited. If you want to change a callout, you need to delete it and create a new one.
You can add callouts to multiple ad groups at once with XLS/XLSX files, multiple amendments in multi-editing, Direct Commander, or via the Yandex Direct API.
Have questions?
Attention.
Our customer service department can only help you with the campaigns created under the same username you use to contact us. You can see your current login in the upper-right corner of the screen. Our team can access your data only when processing your request.