Dynamic ads
Dynamic advertising helps you simplify the process of handling campaigns involving a large number of similar ads. Yandex Direct will analyze the content of the site or feed and automatically create ads for display in Yandex search.
For example, your online store frequently changes its product range and it takes too much time to create new ads and suspend irrelevant ones. You can create a campaign for dynamic ads so that you can automatically generate ads for every item on your site.
Dynamic ads can augment a campaign that also uses regular ads. The most effective ad is served. To identify this ad, the system analyzes impression statistics and click statistics, bids, and the quality coefficient.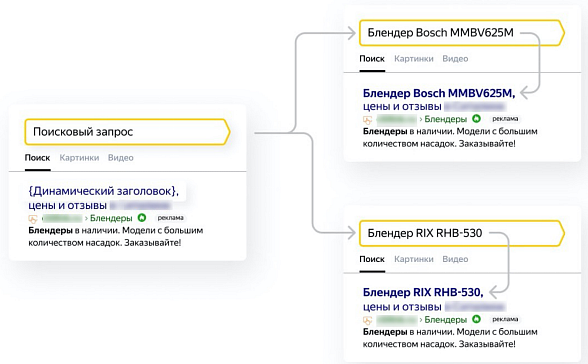 Advantages
Automatic creation

Ads are created for each product from a site or from a feed that you want to promote.

Adds to result

Ads are created specifically for each product and query corresponding to it.

Product gallery from different advertisers

The product gallery is a carousel with product cards from different stores that appears under the search bar.

For more information, see Product Gallery.

Targeting criteria:

Ads were created from a feed including images and prices.

The product meets the user query.

Save time

Dynamic ads are a solution that eliminates the necessity of constantly having to update your ads.

The same format without the manual labor

Dynamic ads look just like Text & Image ads. But a robot creates them for you.
Have questions?
Attention.
Our customer service department can only help you with the campaigns created under the same username you use to contact us. You can see your current login in the upper-right corner of the screen. Our team can access your data only when processing your request.