Manager account
To manage your campaigns, you can grant access to a manager account. This account can be used to create campaigns, edit ads, and view statistics. However, the account does not have access to your balance or payments.
You can assign a maximum of 20 managers to an account. One manager account can have access to 50 other accounts.
Access rights to the manager account can be assigned to several representatives and one chief representative. Afterwards, management rights are granted to the chief representative and all representatives assigned access to the chief representative's account.
How to grant access
In the side menu, click Information → Your representatives.

In the window that opens, under Manager accounts, click Add manager account.

Enter the username used in Yandex.Direct, then click Add manager account. You can only add accounts assigned by the chief representative. You can't appoint agencies and subclients as manager accounts.
Once access is requested, a notification is sent to the specified account in Yandex.Direct. The account owner can accept or reject the invitation by clicking on their username in the menu on the left.
Attention.
Only an account with the chief representative role can be assigned as a manager. The owner of the manager account can appoint their own representatives and change the chief representative. Then, they will also have access to the managed account.
Working with campaigns
To switch from the manager account to a managed account, click on your username in the menu on the left. Then, select the managed account under Available accounts.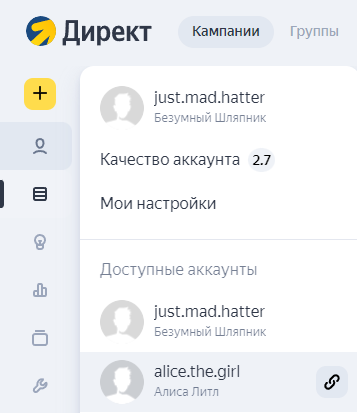 You can view statistics on all managed accounts from your manager account. To do this, go to the Report Wizard and specify accounts for which you want to build a report in the Account data field.