How to view results
You can track the survey in the

Campaign statistics

section on the

Brand Lift

tab. The first results will be visible a few days after the survey starts.
Basic statistics
The top part of the report shows up-to-date metric values: the percentage of responses for the test and control groups and growth in the data collected.

You can export the report in XLSX format. To do this, click Export to Excel.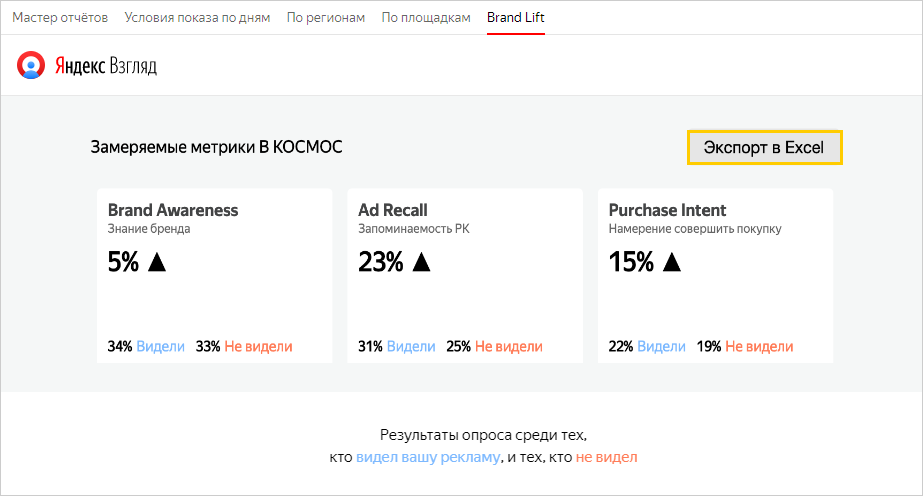 The bottom part of the report shows statistical diagrams of responses to each question with the test group shown in blue and control group shown in red.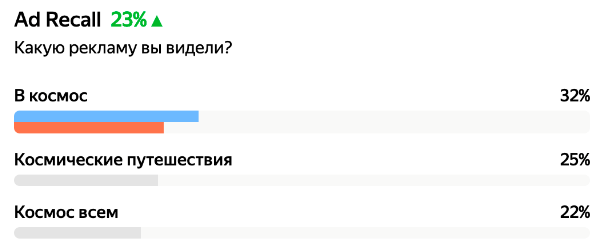 Numbers with percentages on the right show the distribution of audience responses between brands. The total shouldn't necessarily be 100%, because users can select multiple response options or "None of the above".
After the campaign is stopped, the survey can continue for up to 14 days. When data collection is complete, the Brand Lift field in the campaign settings changes to "Survey complete".
Statistics by segment
You can use the XLSX report to view statistics for each measured indicator on separate sheets broken down by audience segments. We use Crypta technology to create cross sections by segment. The percentage of responses for the test and control groups and growth in the data collected are shown in the cross-sections:
age

gender

revenue

location (city or region)

devices (desktops, smartphones, or tablets)
Learn more about evaluating performance.
Why does the report show "Insignificant increase"?
The "Insignificant increase" label might be displayed for the following reasons:
Insufficient data collected

At the beginning of the survey, the questionnaires collected may be insufficient to make any conclusions. Wait for a few days and your report may show growth.
To avoid running out of data, monitor your audience size and campaign budget. Make sure your targetings don't change and your budget doesn't fall below the threshold value throughout the survey.

Actual lack of growth

If your campaign's audience reach and budget remain high enough throughout the survey and the metric's label persists, your ad has probably failed to make a significant impact on the metric.
What's next
Further actions depend on whether your metrics have grown as expected.
Brand Lift has shown positive results

If you see growth in important metrics in your survey results, it means that the display campaign is positively impacting perception of your brand among the target audience. Continue to serve display ads for your proven targetings, try to increase your campaign budget.

Brand Lift didn't show significant growth

Try to understand the reasons for lack of growth. Review your campaign statistics in Yandex.Direct. Revise your creatives and targeting criteria. Try to gain reach faster. The more questionnaires your survey processes, the more likely it will have a significant result. Create a new advertising campaign with the updated settings and creatives, and do your analysis again.