Large images in Yandex.Direct ads: stage two
Back in February, Yandex.Direct gave all advertisers the option to upload images in larger sizes. In the next few days, Yandex.Direct plans to complete the transition to using large images. This means that you will only be able to add images in the new sizes to your ads.
What are the new image requirements?
Currently, your image dimensions can be from 150 to 5000 pixels on each side.
In several days, image dimensions will be from 450 to 5000 pixels on each side.
What will happen to images uploaded before these changes that do not meet the current requirements?
If you still have smaller images in some campaigns, they can still be served in ads on sites, but they will not be available for use in new ads. Therefore it's recommended that you start using the new larger image sizes.
Which images should be added — standard or wide-format?
As of February, you will be able to use two type of images: standard and wide-format. These images differ greatly in terms of their proportions and, as a result, can be served on completely different sites.
Standard size images look something like this: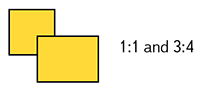 Whereas wide-format images look something like this: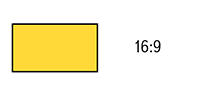 In order for the system to be able to serve your ads with images on the greatest number of sites possible, it is recommended to create two versions of ad in a group: one with standard size images and one with wide-format.
Which size is better?
It is recommended to use the largest dimensions available in the case of both standard size (from 450 to 5000 pixels) and wide-format (from 1080 × 607 to 5000 × 2812 pixels) images. After all, the larger the image is, the more opportunities there are to use it — by shrinking or cutting it to fit the settings of a given site.
What's the point of changing the requirements?
The more visually attractive your ad is, the greater the impact it can have. Adding large images to Yandex.Direct can increase their quality when they appear on high DPI screens — for example, Retina. Using larger images can prevent images from appearing blurred, which often happens with smaller images.
In addition, Yandex is always experimenting with new ad formats for YAN, and having larger images in your campaigns can open up future possibilities for new advertising solutions.
Further information about working with images in Yandex.Direct can be found in the help section.