Report Wizard 2.0 beta: statistics for all campaigns of an account
Today marks the launch of the new Report Wizard beta, which is a convenient tool for collecting and analyzing statistics on all your campaigns in Yandex.Direct. Report Wizard 2.0 is not only a tool for tracking statistics for the whole account, but it also optimizes your use of statistics with its flexible report settings.
Until now, Direct has allowed users to view data on all advertising campaigns for a single login, but grouping was only possible by date. With the new Report Wizard, these statistics can be analyzed in various ways and filtered using different combinations of criteria, such as clicks, impressions, CTR, strategies, campaign statuses, groups, ads, phrases, and much more.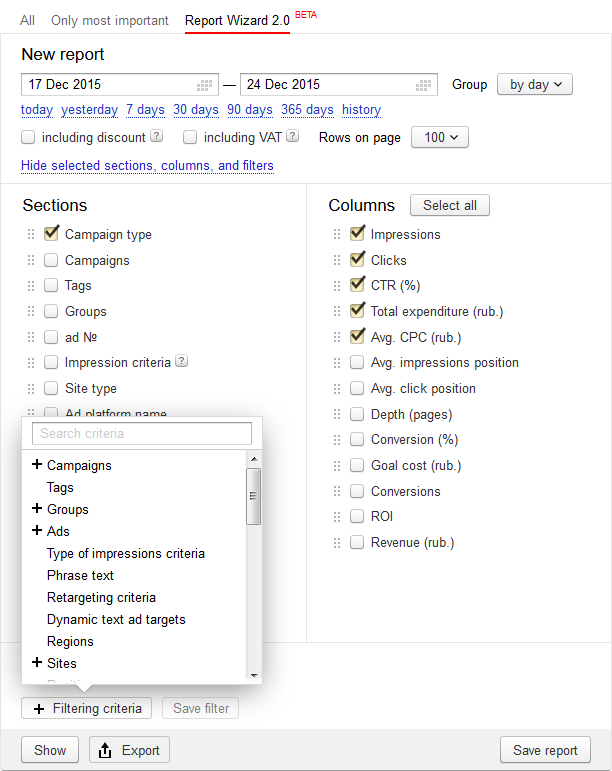 Report Wizard 2.0 is flexible and can be tweaked depending on your tasks. You can save particular columns and filters to spend less time on creating similar reports later. You can also create templates for whole reports with preset criteria, sections, and columns. When you need a report with the same parameters for a new period, you can simply choose the template you need from the list and your report will be prepared without any additional settings.
The Report Wizard 2.0 beta can be found by clicking on the "Statistics for all campaigns" link at the bottom of the campaigns page. Data can be exported both in the XLS/XLSX format and in CSV.
There are plans to totally upgrade the Report Wizard for campaigns by transferring it to the 2.0 version structure. Other handy features will also be added to the second version of the tool soon. For example, a section on click position will be added, while a period comparison function and the option to receive reports via email is in the works.
You will be kept informed about all the planned modifications.
More details on the functions of the Report Wizard 2.0 beta can be found in the Help section.