Regions in geotargeting settings for Russia
Direct will soon increase the geotargeting options for display settings for Russia. Almost 200 cities will be added and you will be able to specify not only a city's oblast, but also its region.
For example, if you are displaying ads for users from Saratov and the Saratov Oblast, when expanding the geotargeting tree in your settings, you will be able to see all regions of the Saratov Oblast marked (like Balakovo, Engels, and so on), and the corresponding cities within these regions: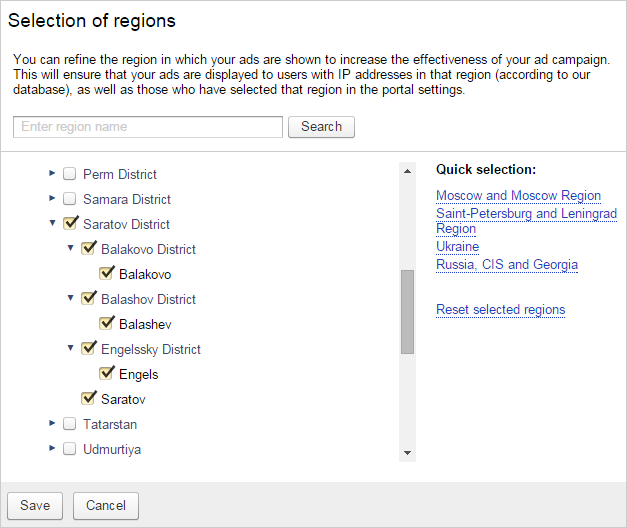 It's important to note that regions don't just combine individual cities, but also nearby towns – even if they are not displayed in the tree. Therefore it is recommended that you select both a specific city and the region it belongs to for your ads so as not to cut off part of your target audience.
In the updated geotargeting tree, you will be able to see the recent combination of a few suburban Moscow cities, such as Yubileyny with Korolyov, and Zheleznodorozhny with Balashikha. If before you excluded ad impressions in Zheleznodorozhny or Yubileyny then, after the changes to Direct come into effect, ads will begin to be displayed in them when selecting Balashikha or Korolyov. Please bear these changes in mind when working on your ad campaigns.
More information about display region settings can be read in the Help section.