Summary
On the Summary screen you'll see basic information about your account: the shared account balance, number of new notifications, and summary statistics for your account. From this screen, you can pay into your shared account, enable it (if you haven't yet), and go to the notifications and account statistics screens.
How do I enable a shared account?
If you haven't enabled a shared account, follow these steps:
Tap Enable.

Confirm your choice in the Direct web interface.

Enter your username and password in the browser window that opens. Tap Log in.

Tap Enable shared account.

Go back to the app. On the Summary screen, you'll see your shared account balance.
How do I select a time period for statistics?
Tap on the heading of the statistics section and select a time period from the list.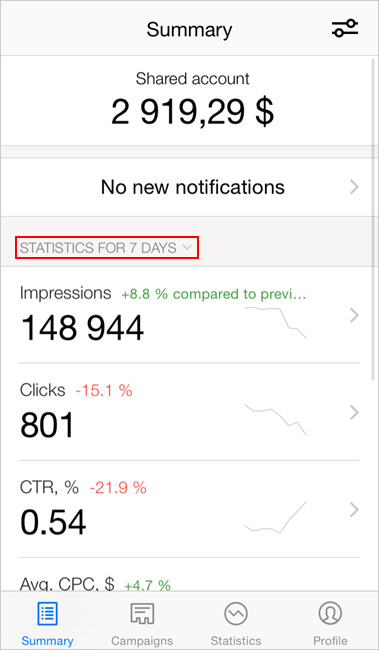 To manually enter a time period, tap the beginning date in the calendar, followed by the ending one.
How do I change the metrics order?
Tap

→ Metrics and drag the metrics to their appropriate places in the list using the

button. In the statistics summary, you'll see information about the first five metrics.