Receiving data from the server
Attention.
Updated information from the Yandex.Direct server is not automatically uploaded to Direct Commander. That's why it's necessary to manually receive data from the server before making any changes.
If you are an agency representative, select the client in the Clients tab. Then click the button in the Campaigns tab.

If you are an advertiser's representative, simply click the button in the Campaigns tab.

Select the campaign in the Campaigns tab. You can instantly select several campaigns by holding the Ctrl or Shift keys. Then click on the button in the Ad groups tab.

It's necessary to receive information from the server for all campaigns that you plan to make changes to.
Receiving auction data and statistics
To speed up data transfer from the server, some of the keyword parameters don't update automatically: bids and click prices for different traffic volumes, network coverage, and statistics.
To get this data, click the

button in the Keywords tab.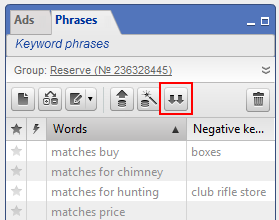 You can update auction data and statistics automatically in the program settings.
Note.
Productivity indicators don't display any more.