Working with images
Using Direct Commander, it's possible to mass edit ad images for impression on content sites.
The image wizard can be accessed via the Ads tab by clicking

for selected ads, or by double-clicking the Image name field.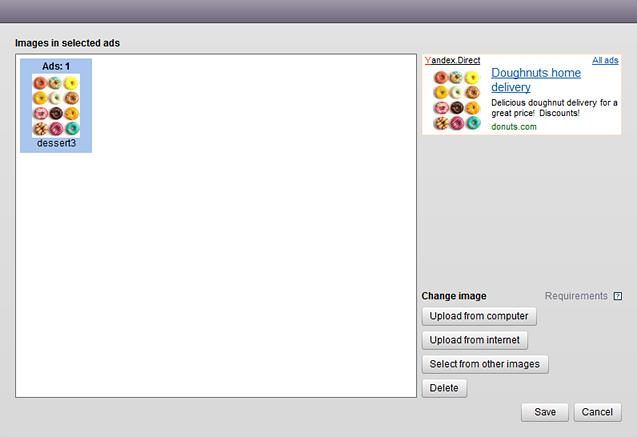 Images in PNG, JPEG, or GIF formats can be uploaded from your computer or the internet. The following image sizes are permissable:
with an aspect ratio from 1:1 to 3:4/4:3 — from 450 pixels on each side

with an aspect ratio of 16:9 — from 1080 × 607 pixels
It's recommended that you upload images of the largest possible size, so that ads with images can be served on the maximum number of ad sites. When your ad is being served, the image may be proportionally resized according to the settings of the site.
After uploading them, a window will open to select the active area of the image. It's possible to name the image here.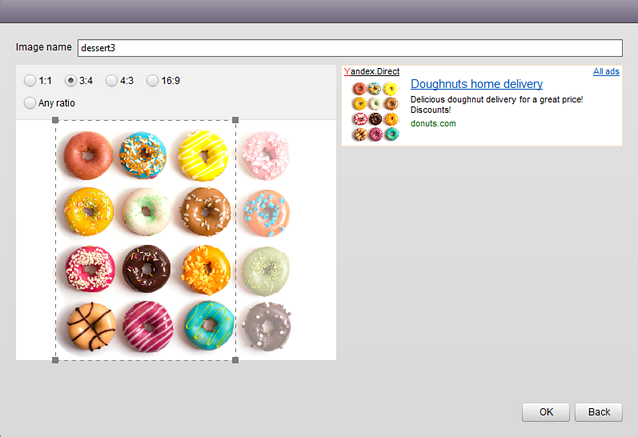 Direct Commander also supports uploading images when importing ads from a file in Direct's standard format if the links to the images are shown in the file. This is convenient, for example, for online stores with a prepared image base.